Tasty Tacos With Chile Verde Over the weekend the weather in San Francisco was exceptionally nice; it was the perfect time to enjoy a delicious homemade Mexican meal with icy cold beers and a few wonderful friends. I had a couple days to plan, so I opted to make a slow-cooked chile verde, which combines the complex flavors of melt-in-your-mouth pork, sauteed onions, tangy tomatillos, and a variety of roasted chiles. Prepping all of the ingredients takes a couple of hours, but the work and patience required to make this dish are worth it. I served the moist scrumptious chile verde on corn tortillas with cilantro, sour cream, and fresh lime. To get started on this distinctive Mexican dish,
.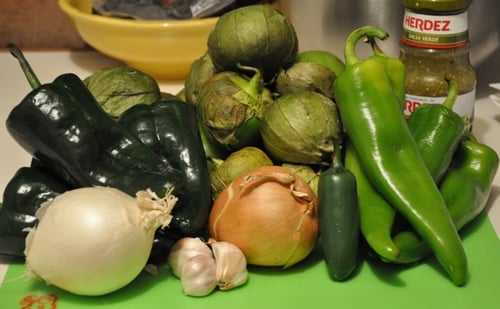 Chile Verde Tacos
Original Recipe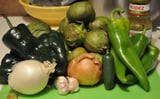 Ingredients
5 poblano chiles
5 anaheim chiles
3-4 pounds pork butt
1/2 white onion, roughly chopped
1/2 yellow onion, roughly chopped
3 cloves of garlic, peeled and roughly chopped
12 tomatillos (roughly 5-6 pounds)
1 cup homemade chicken stock or store-bought chicken stock
1 jalapeno, roughly chopped (optional)
1 jar prepared salsa verde (optional)*
12-20 corn tortillas
8 ounces sour cream
1 bunch cilantro
2-3 limes, sliced in wedges (optional)
Directions
Preheat the broiler. Place poblano and anaheim chiles on a cookie sheet. Roast the chiles on all sides. Be careful the chiles can burn quickly. If there are sides that are too hard to roast in the broiler, use metal tongs and the open flame of the stove to finish the roasting process.
Let peppers cool slightly and use a knife or paper towel to slowly peel the skin off of all the peppers. Set aside.
Season pork with salt and pepper. Heat a large skillet over medium high heat. Brown all sides of the pork about 3-4 minutes per side. Place the pork in a Crock-Pot.
Reduce heat to medium and saute the onions and garlic in the pork fat until golden brown, about 8-10 minutes. Add to the Crock-Pot.
Remove the papery covering on the tomatillos. Place the tomatillos in a food processor. Add the skinned poblano chiles and anaheim chiles. Puree until smooth. Add to the Crock-Pot.
Add chicken stock to the Crock-pot. Simmer in the Crock-Pot on low for 10 hours. Add jalapeno, if desired and cook for another 2-4 hours until the pork falls apart. You might need a fork to break apart the pork. Add the salsa verde, if you need more liquid. You can cook this for shorter amount of time but I think the longer it cooks the better it tastes.
Heat tortillas in a pan or oven. Serve the tortillas warm with the pork and sour cream, chopped cilantro, and lime wedges.
Serves 6-8.
*I prefer Herdez, which can be found in your local grocery store in the Hispanic food section.
Information
Category

Main Dishes, Pork

Cuisine

Mexican