Tater Tots Recipe
Make the Ultimate Tater Tots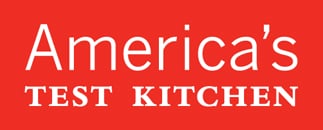 We've got a partnership with the recipe, equipment, and product testing gurus at America's Test Kitchen. They'll be sharing some of their time-tested recipes and technical expertise with us weekly. This week: how to perfect a nostalgic side, the tater tot.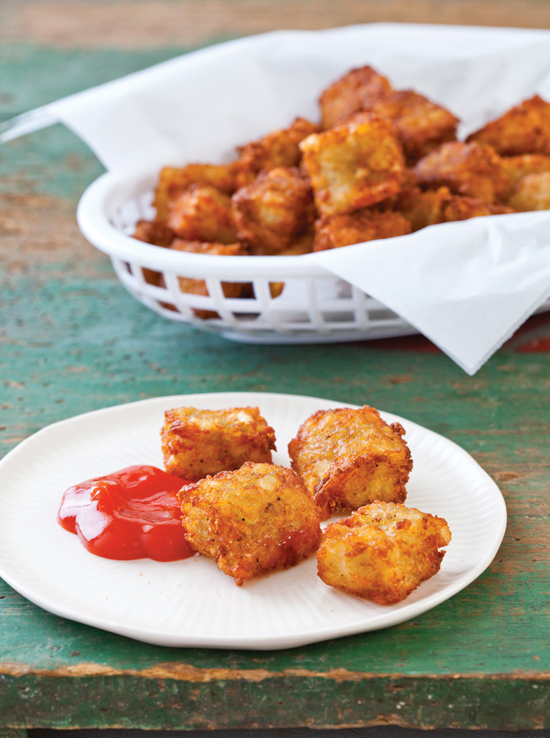 We recently found that our nostalgia for frozen tots, like many kid-friendly foods, outshone the reality. Determined to right this wrong, we hit the test kitchen in search of potato tots with a golden, crunchy exterior and light, fluffy interior. After 100 pounds of potatoes, we finally got a recipe for tots that adults can't get enough of, either.
Video: Watch Christopher Kimball and Julia Collin Davison show every step of making the tots as part of the "Dinner at the Diner" episode of Cook's Country TV.
Why this recipe works: Many recipes simply mix coarsely ground potato with flour and egg, which fry up into raw, dense nuggets. We found that parcooking the chopped potato in the microwave was a step in the right direction, but the tots were still too heavy. Reducing the flour and omitting the egg helped, but the tots were still not light and fluffy. To minimize the gluey texture of potato starch, we tried processing the potatoes with water. Perfection. This step rinsed off the excess starch, and a small amount of salt in the mixture kept the interior downy white.
Keep reading to see the recipe for tater tots.
More stories from America's Test Kitchen:
Secrets to a Fresh Fruit Trifle
Recipe Makeover Challenge: Strata
Recipe Makeover Challenge: Chocolate Cupcakes
Notes
If any large pieces of potato remain after processing, chop them coarsely by hand. To make handling the uncooked tots easier, use a wet knife blade and wet hands. Once the tots are added to the hot oil, they may stick together; resist the temptation to stir and break them apart until after they have browned and set. You will need at least a 6-quart dutch oven for this recipe.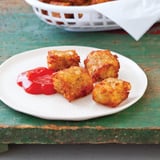 Ingredients
2 1/4 teaspoons salt
2 1/2 pounds russet potatoes, peeled and cut into 1 1/2-inch pieces
1 1/2 tablespoons all-purpose flour
1/2 teaspoon pepper
1 quart peanut or vegetable oil
Directions
Whisk 1 cup water and salt together in bowl until salt dissolves.

Pulse potatoes and salt water in food processor until coarsely ground, 10 to 12 pulses, stirring occasionally.

Drain mixture in fine-mesh strainer, pressing potatoes with rubber spatula until dry (liquid should measure about 1 1/2 cups); discard liquid.

Transfer potatoes to bowl and microwave, uncovered, until dry and sticky, 8 to 10 minutes, stirring halfway through cooking.

Stir flour and pepper into potatoes. Spread potato mixture into thin layer over large sheet of aluminum foil and let cool for 10 minutes. Push potatoes to center of foil and place foil and potatoes in 8-inch square baking pan. Push foil into corners and up sides of pan, smoothing it flush to pan. Press potato mixture tightly and evenly into pan. Freeze, uncovered, until firm, about 30 minutes.

Meanwhile, adjust oven rack to middle position and heat oven to 200 degrees. Set wire rack in rimmed baking sheet. Add oil to large Dutch oven until it measures about 3/4 inch deep and heat over high heat until 375 degrees. Using foil overhang, lift potatoes from pan and cut into 48 pieces (5 cuts in 1 direction and 7 in other).

Fry half of potato tots until golden brown and crisp, 5 to 7 minutes, stirring only after they are browned and set. Transfer to prepared baking sheet and place in oven. Return oil to 375 degrees and repeat with remaining potato tots. Serve.

Makes 4 dozen.

To make ahead: Let fried potato tots cool, transfer to zipper-lock bag, and freeze for up to 1 month. To serve, adjust oven rack to middle position and heat oven to 400 degrees. Place potato tots on rimmed baking sheet and bake until heated through, 12 to 15 minutes.

Crispy potato tots for a crowd: Double all ingredients for Crispy Potato Tots. Process and drain potato mixture in 2 batches. Microwave entire potato mixture for 12 to 14 minutes, stirring halfway through cooking. Spread potato mixture over large sheet of foil to cool and press into 13 by 9-inch baking pan. After freezing, cut potato rectangle in half crosswise before cutting into potato tots per recipe. Fry in 4 batches.

Bacon-ranch potato tots: Stir 1 tablespoon cider vinegar into potatoes after microwaving. Add 4 slices finely chopped cooked bacon, 1 teaspoon onion powder, 1/2 teaspoon garlic powder, and 1/2 teaspoon dried dill to potatoes with flour in step 2.

Parmesan-rosemary potato tots: Stir 2 minced garlic cloves into drained potatoes before microwaving. Add 1 cup grated Parmesan cheese and 2 tablespoons minced fresh rosemary to potatoes with flour in step 2.

Southwestern potato tots: Add 1/2 cup shredded smoked gouda cheese, 3 tablespoons minced fresh cilantro, and 2 tablespoons minced jarred jalapeños to potatoes with flour in step 2.
Information
Category

Side Dishes, Potato

Cuisine

North American