Tax Day Food Deals and Coupons
Where to Get Your Tax Day Food Deals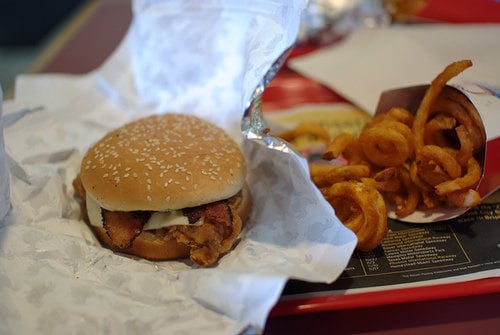 This year's a lucky one for American taxpayers — not only do we get two extra days to file our taxes due to a Sunday and a less-than-widely-known holiday, we also have more opportunities than ever to snag deals at some of the country's most popular restaurants. Taxing? We think not. Here, we bring you a compilation of Tax Day's best nationwide deals.
Tax Day Deals
Bruegger's: Download a Facebook coupon for a $10.40 Big Bagel Bundle (a baker's dozen of bagels and two containers of cream cheese).
Chevys: Stop by participating Chevys locations today and have two premium Herradura margaritas for $10.40 — then have the Mexican restaurant pick up the tax on your meal.
Hooters: Wing it with 20 boneless wings for $9.99.
McCormick & Schmick's: Enjoy an extended happy hour — complete with special-edition tax-themed cocktails — that lasts through 11 p.m. Bloody Mary tax code, anyone?
P.F. Chang's: Score a discount of 15 percent off everything, excluding drinks or happy hour menu items.
Sonic: Half-priced fountain drinks and slushies all day.
To see more deals — including stuff that's entirely free, no purchase required! — keep reading.
The Free Stuff
Arby's: Get free curly fries with a coupon, available on the chain's Facebook page.
Maggie Moo's and Marble Slap Creamery: Visit either chain between 4 and 7 p.m. and receive a free scoop of the latest yogurt (participating locations only).
Panda Express: Like the chain on Facebook and get a free serving of the chain's new Shanghai Angus Steak.
Cinnabon: Munch on two free mini Cinnabon rolls between 6 and 8 p.m. (no airports or travel plazas).
Seattle's Best Coffee: Sip on a free small brewed coffee on the house. Also, enjoy SBC's new Level System coffee at home with the Great American Coffee Refund.
Free With Purchase
Source: Flickr User Chuck Chuck Chuck