TchoPairings Chocolate Bars Review
Is Tcho's Oddball Line of Chocolate Bars a Win?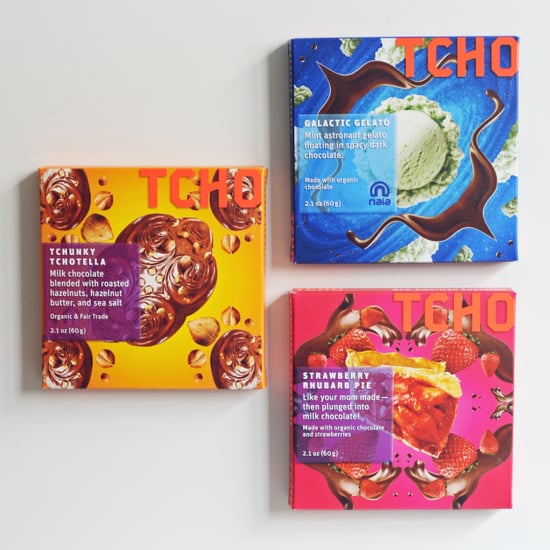 What happens when a chocolatier best known for its exacting, scientific take on bean-to-bar chocolates enters the candy bar game? Judging from Tcho's TchoPairings ($16 for two bars), the result is a variety of creative, slightly crazy confections like the line's astronaut ice cream bar. Eager to find out if that and its other flavors (hazelnut and strawberry rhubarb pie) could live up to the high standards of the brand's other treats, we dug in.
Rather than dance around the inspiration behind its hazelnut bar, Tcho proudly pays homage to Nutella in its name: Tchunky Tchotella. Even better, we'd argue that Tcho one-upped the gianduja spread by toning down the sweetness a notch by using a higher cacao milk chocolate and a just-right dose of salt. As one taster put it, this bar is "like Nutella you're allowed to eat without bread," something we can definitely get behind.
Keep reading to find out how Tcho's more unusual bars fared.
Remember astronaut ice cream? Tcho took the concept down a playful path in its Galactic Gelato bar, which has dark chocolate studded with bits of freeze-dried mint gelato. (In other words, fancy astronaut ice cream.) If you answered with an emphatic, fond "yes" to the first question, this confection will likely please. Fair warning: tasters who looked past the bar's novelty felt that while tasty, it wasn't remarkably different (or better) than comparable mint chocolate candies. One taster even griped that the astronaut ice cream inclusions added a distracting sandy texture.
Strawberry rhubarb pie . . . chocolate? If you're scratching your head at Tcho's Strawberry Rhubarb Pie bar, you're not in the minority. That said, while odd in concept, this unusual option won us over on first bite. Chips of crumbly, crunchy, freeze-dried fruit added a pleasantly tart note to the silky-smooth milk chocolate base. And while not all feedback was positive — some tasters just felt it wasn't their cup of tea, and we're not sure that we discerned distinctive notes of rhubarb or pie crust — we can't wait to see this inventive combination on shelves and to see what's next from Tcho.