Tennessee Whiskey Pork Chops
Break Out the Good Stuff For Tennessee Whiskey Pork Chops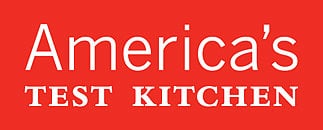 We've got a partnership with the recipe, equipment, and product testing gurus at America's Test Kitchen. They'll be sharing some of their time-tested recipes and technical expertise with us weekly. This week they're sharing a pork chops recipe that features a brown sugar-whiskey glaze.
The test kitchen's focus swung south to develop a foolproof recipe for Tennessee whiskey pork chops. We started by making a whiskey-flavored marinade, then steeped the chops in it for at least one hour prior to cooking. We cooked the chops in a hot skillet and then used the same pan to prepare the glaze — browned bits left behind by the chops in the pan added deep, meaty flavor. Allowing the cooked chops to sit in the pan in the glaze for a few minutes before serving helped ensure it clung to the meat.
Keep reading for the recipe.
Ingredient Spotlight: Jack Daniel's Tennessee Whiskey
Bourbon was fine, but we loved the deep, caramel-flavored glaze we got when using Jack Daniel's in this recipe. Tennessee whiskey differs from Kentucky bourbon because of a distiller's trick called the Lincoln County process in which the distilled whiskey is filtered over hard maple charcoal. Then, like bourbon, it is aged in charred oak barrels, where it picks up its distinctive caramel color and smoky flavor.
More stories from America's Test Kitchen:
How to make pimento cheese
So you think you know how to poach an egg
Meet the photographer of America's Test Kitchen
Lasso the family in with this ranch chili
Tennessee Whiskey Pork Chops
Notes
Bourbon tastes fine, but we think it's worth purchasing the real deal — Jack Daniel's Tennessee Whiskey — for this recipe. Watch the glaze closely during the last few minutes of cooking — the bubbles become very small as it approaches the right consistency.
Ingredients
1/2 cup Jack Daniel's Tennessee Whiskey or bourbon
1/2 cup apple cider
2 tablespoons packed light brown sugar
4 teaspoons cider vinegar
1 tablespoon Dijon mustard
1/2 teaspoon vanilla extract
1/8 teaspoon cayenne pepper
4 (8- to 10-ounce) bone-in, center-cut pork chops, about 1 inch thick, trimmed
2 teaspoons vegetable oil
Salt and pepper
1 tablespoon unsalted butter
Directions
Whisk whiskey, cider, sugar, 2 teaspoons vinegar, mustard, vanilla, and cayenne together in bowl. Transfer 1/4 cup whiskey mixture to 1-gallon zipper-lock bag, add pork chops, press air out of bag, and seal. Turn bag to coat chops with marinade and refrigerate 1 to 2 hours. Reserve remaining whiskey mixture separately.
Remove chops from bag, pat dry with paper towels, and discard marinade. Heat oil in 12-inch skillet over medium-high heat until just beginning to smoke. Season chops with salt and pepper and cook until well browned on both sides and a peek into thickest part of a chop using paring knife yields still-pink meat 1/4 inch from surface, 6 to 8 minutes, flipping chops halfway through cooking. Transfer chops to plate and cover tightly with aluminum foil.
Add reserved whiskey mixture to skillet and bring to boil, scraping up any browned bits with wooden spoon. Cook until reduced to thick glaze, 3 to 5 minutes. Reduce heat to medium-low and, holding on to chops, tip plate to add any accumulated juices back to skillet. Add remaining 2 teaspoons vinegar, whisk in butter, and simmer glaze until thick and sticky, 2 to 3 minutes. Remove pan from heat.
Return chops to skillet and let rest in pan, turning chops occasionally to coat both sides, until sauce clings to chops and meat registers 145 degrees, about 5 minutes. Transfer chops to platter and spoon sauce over. Serve.
Information
Category

Main Dishes, Pork

Cuisine

North American

Yield

Serves 4