Thanksgiving Potluck Tips
Tips For Hosting a Thanksgiving Potluck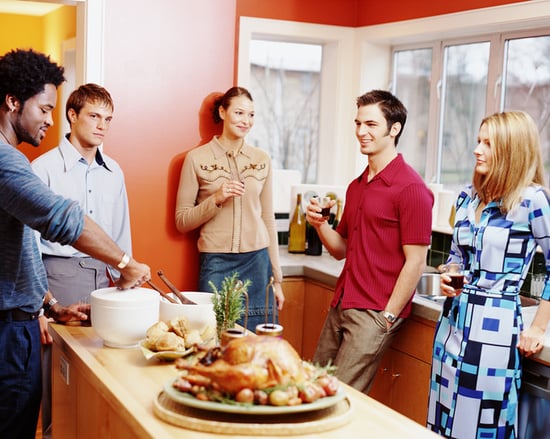 Whether you'll be celebrating with friends or family this year, consider making it a potluck affair. Not only will it feel more inclusive and allow your guests to show off their kitchen prowess, but it will also ease the burden of expense and stress on your end. With a few tips and tricks your Thanksgiving spread will be picture-worthy, full of diverse offerings (woe be the meal with four versions of green bean casserole, but no pie in sight), and — dare we say it — fun.
Divvying up dishes: While elegant snail-mail or Paperless Post invites are tempting (and are great to send out in addition), stick with email, Evite, or a Facebook invite when it comes to planning. This way you can easily lay out what dishes you'd like guests to bring, and ask each to reply all or post on the group board with what they've chosen to take on. Make sure to list out what you consider absolute musts (stuffing, mashed potatoes, pie) but also leave room for guests to share their family traditions by including open-ended categories as well (other sides, dessert, etc). As a helpful reminder, update the list as assignments are snapped up, so that guests don't have to read through the whole conversation thread.
Signature components: If one of your guests makes a signature dish that you can't do without, feel free to send them an additional email asking them to bring it, and consider leaving it off of the list of assignments. Just make sure to include a note in the thread that they'll be bringing it, so that other guests won't think that a crucial element is missing.
Provide the turkey: Turkey is cumbersome to transport, and won't benefit from the requisite reheating come meal time. Prepare this and gravy from its drippings at home. As a bonus, its mouth-watering perfume will entice guests when they enter your home.
Keep reading for four more tips.
Don't forget the alcohol: Keep a small amount of alcohol on hand for early-arrivals, but also include beer, wine, and/or cocktails on the list of what you'd like others to bring. Additionally, it's wise to set out a low-fuss nibble like caramel-topped brie, or spiced nuts to stave off hunger until those who are bringing appetizers arrive.
Be prepared for leftovers: Unless you're planning on hoarding the leftovers, stock up on disposable deli containers, heavy-duty tinfoil, and plastic wrap, so that your guests can take home a little taste of the feast.
Have an oven plan: Suggest that guests should bring dishes (when possible) that can be served cold or at room temperature. For everything else, ask that they include their re-heat plan in their response, so that it can be accounted for in your oven plan.
Don't forget serving gear: Unless you have a well stocked selection of platters, serving spoons, and the like, ask guests to either bring their dish in the container they'd like to have it served from, or to tote it along. The day before the big day, send out a friendly reminder with the directive to bring platters and serving utensils included.
Please share any additional tips you might have in the comments.