Theirs vs. Mine: Chocolate Caramel Cream Pie With its cookie crust, cool filling, and fluffy topping, who can say no to a slice of chocolate caramel cream pie? I should have taken advantage of Summer's glorious fruits, but honestly I prefer cream pies. Just writing the name makes my mouth water and entices images of pillowy whipped cream. The chocolate pudding filling is like a glossy pool, you can't resist diving in with your spoon.
As you can tell from my photo, patience is not one of my virtues. The pie needed more time to set, and although the flavor was pure, rich deliciousness, it was a tad soupy. To experiment with your own scrumptious pie,
.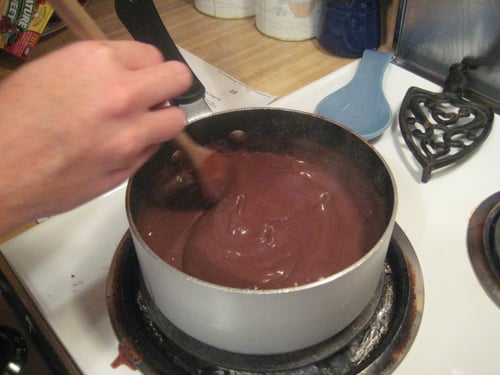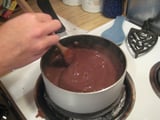 Ingredients
Chocolate Pie Crust
1/2 cup sugar
1/4 cup cornstarch
3/4 teaspoon salt
2 1/2 cups whole milk
4 ounces bittersweet chocolate (preferably 61 percent to 70 percent cacao), finely chopped
4 large egg yolks
1 teaspoon pure vanilla extract
Caramel Whipped Cream, recipe below
1 thick block bittersweet chocolate, room temperature, for garnish
Directions
Whisk together sugar, cornstarch, and salt in a small bowl.
Heat milk and chocolate in a medium saucepan over medium-high heat, stirring occasionally, until chocolate melts.
Whisk 1 cup hot milk mixture into sugar mixture until smooth.
Whisk milk-sugar mixture into the remaining milk mixture in the saucepan. Cook over medium heat, stirring constantly, until bubbling and thick, 4 to 5 minutes total (about 2 minutes after it comes to a boil).
Whisk yolks in a medium bowl until combined. Pour in milk mixture in a slow, steady stream, whisking until completely incorporated.
Return mixture to saucepan. Cook over medium heat, stirring constantly, until it just begins to bubble, 1 to 2 minutes.
Remove from heat, and stir in vanilla. Let custard cool in saucepan on a wire rack, whisking occasionally, for about 10 minutes.
Pour custard into chocolate crust. Press plastic wrap directly on surface of custard. Refrigerate until custard filling is chilled and firm, at least 4 hours (or overnight).
Spread caramel whipped cream over pie. Using a vegetable peeler, scrape chocolate block at a 45-degree angle to make a small mound of shavings, and sprinkle over whipped cream. Serve immediately, or refrigerate and serve within 2 hours.
Makes 1 pie.
1/4 cup sugar
1 tablespoon water
Salt
1 1/4 cups cold heavy cream
Prepare an ice-water bath.
Heat sugar, water, and a pinch of salt in a small saucepan over medium-high heat, stirring until sugar dissolves.
Cook, without stirring, until mixture is amber. (Do not let caramel burn.) Carefully pour in 1/2 cup cream in a slow, steady stream down the side of the saucepan, whisking constantly, until smooth (caramel will bubble).
Remove from heat, and place saucepan in ice-water bath. Let caramel mixture cool, stirring occasionally, until cold, about 20 minutes.
Whisk remaining 3/4 cup cream in a large bowl until soft peaks form. Gently fold caramel mixture into whipped cream, and whisk until stiff peaks form. Use immediately.
Makes 2 cups.
Information
Category

Desserts, Pies/Tarts