Theirs vs Mine: Crostini with Creamy Ricotta and Chorizo
A couple weeks ago my dad surprised me with a gift of delicious Spanish chorizo. When he gave it to me, I knew exactly what dish I had to make: a crostini appetizer I saw in a recent issue of Food & Wine magazine. In the appetizer, a thick, crisp piece of sourdough is topped with pillows of creamy ricotta, spicy sautéed chorizo, and tangy balsamic red onion slices. Their version tops the hearty dish with frisee, but my local market didn't have any. No matter, it was still to die for! The recipe has you drain the ricotta overnight, but I didn't do that either. I simply drained it while I assembled the rest of the appetizer. The final dish is insanely good, next time I have to make it for dad! To take a look at how it's done,
.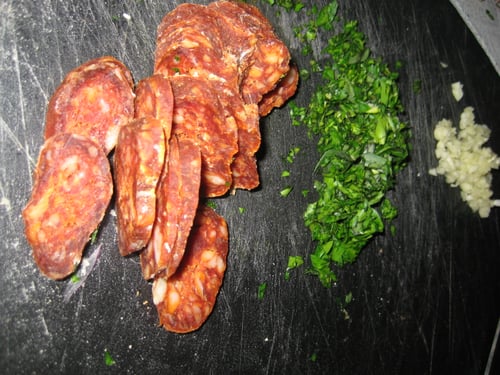 Crostini with Creamy Ricotta and Chorizo
From Food & Wine magazine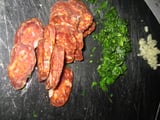 Ingredients
1 cup fresh ricotta cheese
3 tablespoons extra-virgin olive oil, plus more for brushing
Salt and freshly ground pepper
Six 1/2-inch-thick slices of Italian peasant bread
2 small garlic cloves, 1 minced
1/4 small red onion, thinly sliced
6 tablespoons balsamic vinegar
1 small dry chorizo (about 3 ounces), thinly sliced
1 tablespoon chopped tarragon
1 tablespoon chopped parsley
1 small head of frisée, tender white and light green leaves only*
Directions
Put the ricotta in a fine sieve set over a bowl. Cover with plastic wrap and refrigerate overnight. Discard the liquid in the bowl.
Wipe out the bowl, add the thickened ricotta and stir in 1 tablespoon of the olive oil and season with salt and pepper.
Preheat a grill pan. Lightly brush both sides of the bread slices with oil and grill, turning once, until toasted, about 3 minutes. Transfer the toasts to a platter and rub them with the whole garlic clove.
In a small bowl, toss the red onion with 2 tablespoons of the balsamic vinegar and let stand for 10 minutes; drain the onion, discarding the vinegar.
Meanwhile, in a small saucepan, boil the remaining 1/4 cup of balsamic vinegar until reduced to 1 tablespoon, about 5 minutes.
In a medium skillet, combine the remaining 2 tablespoons of oil with the minced garlic, chorizo, tarragon and parsley. Cook over low heat, stirring occasionally, just until warmed through, about 5 minutes.
Spread the ricotta on the toasts and top with the warm chorizo. Garnish with the frisée and pickled onions. Drizzle with the reduced balsamic vinegar and serve.
Serves 6.
*My local grocery store was all out of frisée, so I simply omitted it from the recipe.
Information
Category

Appetizers, Crostini

Cuisine

Spanish/Portuguese