Theirs vs Mine: Quick Raspberry Charlotte After reading the French-themed March issue of Gourmet magazine, I could not stop thinking about this recipe for a quick raspberry charlotte. I finally got around to making this easy, tasty dessert last Friday night and it was deliciously rewarding!
Not-your-average dessert, this charlotte consists of ladyfingers, melted ice cream, and raspberries. The final result is refreshing and light. The hardest thing about this dessert was taking the picture. It may not have the prettiest presentation, but if you are looking for a lovely treat, I highly recommend this recipe. To check it out,
.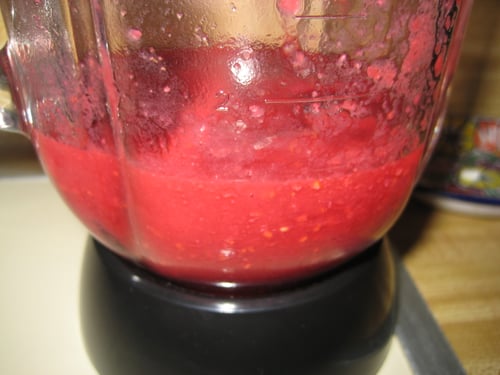 Quick Raspberry Charlotte
From Gourmet magazine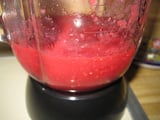 Ingredients
7 ounces savoiardi (crisp Italian ladyfingers)
1 tablespoon Cognac or other brandy
1 pint premium vanilla ice cream, melted
10 ounces frozen raspberries (not in syrup)
1 cup water
Rounded 1/4 cup sugar
1 1/2 teaspoons fresh lemon juice
3/4 cup chilled heavy cream
a 7- to 8-inch soufflé dish
Directions
Layer ladyfingers in soufflé dish.
Stir Cognac into melted ice cream and pour evenly over cookies. Let stand 10 minutes.
Purée, raspberries with water, sugar, and lemon juice in a blender until smooth.
Beat cream with an electric mixer or a whisk until it just holds stiff peaks, then add 3/4 cup raspberry sauce and continue to beat until mixture holds soft peaks.
Lightly press on cookies with a spatula to compact slightly, then drizzle 1/2 cup raspberry sauce over them.
Spread raspberry cream evenly on top and chill, covered, in freezer 30 minutes.
Serve charlotte with remaining raspberry sauce.
Serves 6-8.
Information
Category

Desserts, Frozen

Cuisine

French