Thomas Keller's Cheesy BLT Fried Egg Sandwich
A Tasty Way to Start the (New Year) Day
Last week, I woke up (no surprises here) slightly hungover. It seems I had played one three too many rounds of beer pong. As I lay in bed, my head pounding, I suddenly realized I was in the best place in the world to be hungover: my parents' house — where the fridge was always stocked! Sure enough there was bacon, eggs, an assortment of cheese, and bread. It was time to make the ultimate breakfast sandwich — Thomas Keller's cheesy BLT with a fried egg. You may recognize this sandwich from the movie Spanglish. And if you've never made it, treat yourself to one today (especially if you are hungover!).
The combination of crisp bacon, oozing yolk, and melted cheese is scrumptiously sublime. The sandwich features simple ingredients in a magnificent way that is balanced in both taste and texture. Although it's extremely messy to eat, the dish is surprisingly hearty and beyond delicious. To check out this egg-cellent sandwich,
.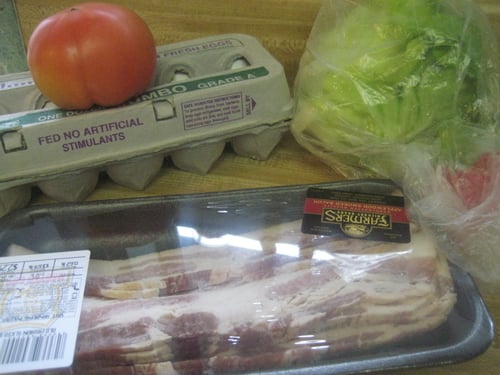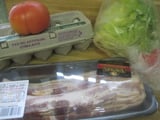 Ingredients
4 thick slices of bacon
2 slices of Monterey Jack cheese*
2 thick slices of rustic white bread, toasted and hot
1 tablespoon mayonnaise**
4 tomato slices
2 leaves of butter lettuce
1 teaspoon unsalted butter
1 large egg
Directions
In a skillet, cook the bacon over moderate heat, turning, until crisp, about 8 minutes. Transfer to paper towels to drain.
Set the Monterey Jack slices on 1 piece of toast. Spread the mayonnaise on the other slice of toast, then top with the bacon, tomato and lettuce.
In a small, nonstick skillet, melt the butter. Add the egg and fry over moderate heat, turning once, until crisp around the edge, about 4 minutes; the yolk should still be runny.
Slide the egg onto the lettuce; close the sandwich and eat right away.
Makes 1 sandwich.
*We didn't have Monterey Jack on hand, so I substituted another mild, good-melting white cheese, fontina.
**I left out the mayonnaise and didn't miss it. The runny egg provides enough moistness.
Information
Category

Main Dishes, Sandwiches