Thomas Keller Focuses on Retail
Thomas Keller's New Legacy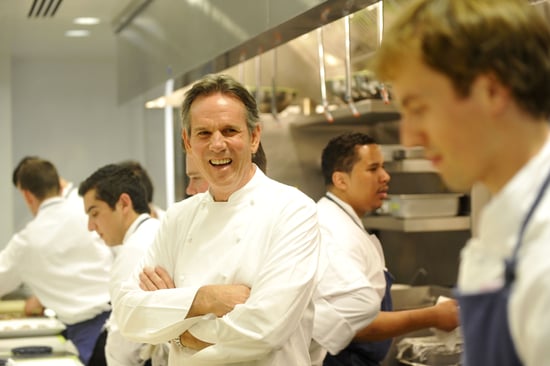 Thomas Keller in one of his restaurant kitchens
Chef Thomas Keller is a man of detail. At this very moment, he's braising a lamb shank, and his focus is on making sure everything — from the marble counter to the Miele stove top to the All-Clad Essential Pan — is spotless, wiping down any sauce splatters meticulously with a blue striped Turkish towel.
No, he's not working dinner service at Per Se or The French Laundry, his two three-Michelin-starred restaurants, although he just as well could be. Instead, he (along with Devin Knell, chef de cuisine of Keller's restaurant group) is hosting Williams-Sonoma's first-ever webcast, broadcasting live from the retail company's brand-new, state-of-the-art test kitchen. The two are making braised lamb à la matignon, with shanks sourced from Keith Martin's Pure Bred Lamb in Waynesburg, PA.
No doubt ingredients and sourcing are a crucial part of the equation, something the chef emphasizes to his viewers at home. But just as important is execution, an essential to good cooking that involves several elements. "One of them is skill," he tells the webcast. "But execution also has to do with our tools: a great cutting board, a wonderful set of sharp knives, things that we need to be able to cook. Then our equipment: making sure our ovens are calibrated successfully."
So what's this mean for his future legacy?

Keller at the opening of Bouchon in Beverly Hills, CA
It may just seem like Keller's obsessive attention to detail, but this small discussion hints at something bigger that's been brewing in chef Keller's kitchen. After years spent bringing the Thomas Keller Restaurant Group to Las Vegas, New York, and Southern California, he's turned his focus increasingly to retail.
Keller has an ever-expanding collection of items at Williams-Sonoma ("we meet three times a year, and we're always working on new things," he tells me), including Cup4Cup, a unique flour blend developed with gluten-free pastry lovers in mind. Last month, he announced he's opening Finesse, The Store, his first-ever kitchen retail shop in Yountville, CA. And at the webcast party, I've just learned that he's developing a brand-new line of cookware with All-Clad slated to launch next year. "I believe they make the best cookware in America," he proclaims, going on to detail how fast the pan reheats after adding ingredients, the cookware's even distribution of heat, and the pots' ideal shapes and sizes. "They're made in America, and I'm extremely proud of that."

All-Clad's Bocuse D'Or 6-Piece Cookware Set ($1400), hand selected by Thomas Keller
The revered chef may just be hoping that quality products will be one part of his lasting legacy, a way to transition into the inevitable reality that he will one day have to slow down. I ask him whether he still sees himself behind a stove in 10 years. "I have no idea," he admits. "Have you ever worked in a kitchen for 30 years? It's physically demanding. At 65, you're not going to be able to keep up with the guys in the kitchen who are 30 or even 40."
Thankfully, his favorite aspect of his current career isn't the opening of restaurants or the food festivals or the development of new dishes; it's mentoring. "Teaching is really gratifying," he says. He encourages the rest of the community to be advocates of the culinary industry as well, offering a piece of advice to the ever-present, often-critical food media: if there's one thing he could change about them, it'd be to make them realize they're part of the profession, too. "Everyone — from waiters to sommeliers to journalists like you — is part of the industry. We should all be championing each other," he says.
Yet Keller, it seems, holds a bright outlook on the future ahead: "Chefs in my kitchen today have better skills, better techniques, better tools than I ever had at their age."