Three-Layer No-Bake Bar Cookie Recipe
Come Party With Me: Holiday Pub Crawl — Dessert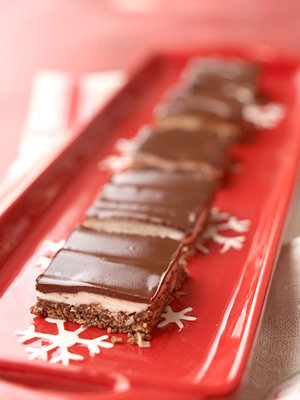 Here's an affordable and fun holiday party idea: invite friends over for decadent appetizers, then take a tour of the bars in your neighborhood. Instead of serving a bunch of food and drinks all night, you just have to make enough for each guest to have a couple bites and one-to-two rounds of drinks. For an easy spread of sweets, fill small bowls with red and green M&Ms and Hershey's Kisses.
Also offer a quick and uncomplicated make-ahead dessert, like the three-layer no-bake bars seen here. The bottom layer is a crumbly mixture of graham crackers, sugar, and cocoa powder. The creamy middle is a combination of vanilla pudding mix, milk, and powdered sugar. The top is a rich glaze of dark chocolate.
Made in a large casserole dish, this dessert is an ideal option for a potluck. Interested in the looking at the recipe? Read more.
Three-Layer No-Bake Bar Cookies
Ingredients
For the bottom layer:
1/2 cup butter
1/4 cup granulated sugar
1/4 cup unsweetened cocoa powder
1 egg, lightly beaten
1 teaspoon vanilla
2 cups finely crushed graham cracker crumbs
1 cup flaked coconut
1/2 cup chopped nuts
For the middle layer:
3 tablespoons milk
2 teaspoons instant vanilla pudding and pie filling mix
1/2 cup butter, softened
2 cups powdered sugar
For the top layer:
1/4 cup butter
1 cup semisweet chocolate pieces
Directions
Line a 13x9x2-inch pan with foil, extending foil over the pan edges. Set aside.
In a medium saucepan, heat 1/2 cup butter over low heat until melted. Stir in granulated sugar, cocoa powder, and egg. Cook and stir over medium-low heat for 3 to 4 minutes or until blended and slightly thickened (160 degrees F), whisking constantly. Remove from heat; stir in vanilla. Stir in graham cracker crumbs, coconut, and nuts until well combined. Press mixture into prepared pan; chill.
For middle layer, in a small bowl, combine the milk and vanilla pudding mix; set aside. In a large bowl, beat the 1/2 cup softened butter with an electric mixer on medium speed for 30 seconds. Beat the pudding mixture into the butter until combined. Beat in 2 cups powdered sugar until smooth. Spread over cooled layer in pan; cover and chill for 30 minutes or until firm.
For top layer or frosting, in a microwave-safe bowl, combine the 1/4 cup butter and chocolate pieces. Microwave on 50 percent power (medium) for 45 to 75 seconds or until melted, stirring every 30 seconds. Cool slightly.
Spread frosting evenly over the chilled bars. Chill until firm. Using the edges of the foil, lift the uncut bars out of the pan. Cut into bars.
Makes 48 bars.


Make ahead: Place bars in a single layer in an airtight container; cover. Store in the refrigerator for up to 3 days or freeze for up to 3 months.
Information
Category

Desserts

Cuisine

North American