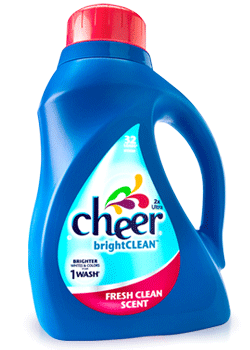 Where there's a will, there's a way, right? Right! Check out some quick tips to help you center your chi, get your Zen on, and feel balanced.
Take Time to Make Time: Wake up a few minutes earlier to start the day off on the right foot. It's amazing what you can get done in five minutes.
Make a List: Keep the day's priorities at your fingertips (use your smartphone's sticky notes apps; tying a string on your finger won't get the job done).
Don't Sweat the Small Stuff: Fretting about that stain on your favorite shirt? Well forgetaboutit. Be sure to use Cheer Bright Clean and consider your favorite shirt good to go.
Cheer Bright Clean not only puts the yin back in your yang, but it also helps balance the most un-balanceable days. Have to see it to believe it? Check out some real-life videos of mean to clean clothes, here.
Click here to get $1 off your jug of new Cheer Bright Clean and let the balancing begin!