Tigger Melons
Lick Your Lips For Tigger Melon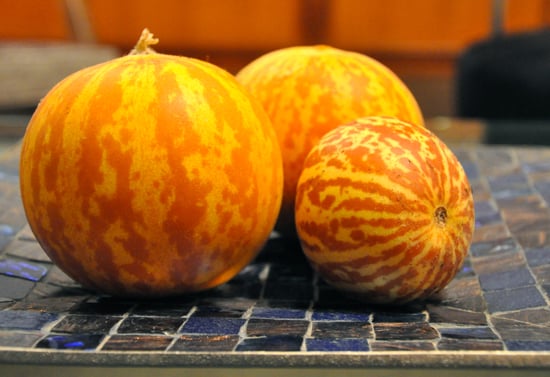 Melon season has passed for most, but thanks to Indian Summer in California, my tiny little garden is still producing, and I am harvesting my first round of tigger melons! This Armenian melon only grows to about one pound but is packed with an incredible fragrance and is marked by truly stunning red and orange stripes. The creamy flesh is pale white, and quite similar to a honeydew, flavor-wise. I picked up my seed packet from Rare Seeds, a great site that sells a huge variety of heirloom and exotic seeds. To see even more photos of this amazing melon, keep reading.

Preparation is very similar to just about any other melon: cut it in half, scoop out the seeds, and enjoy! The flesh is soft enough to eat with just a spoon but slicing it into wedges would be just as easy.


This melon is great served as is or blend it up for an amazing agua fresca. It may be a tad early to start planning your Spring garden, but be sure next year to add this exotic melon to your beds — and keep an eye out for their irresistible color at your local farmers markets. Have you ever had this melon?