Tim Love's Tips For Grilling Steak
Tim Love Raises the Steaks at the Grill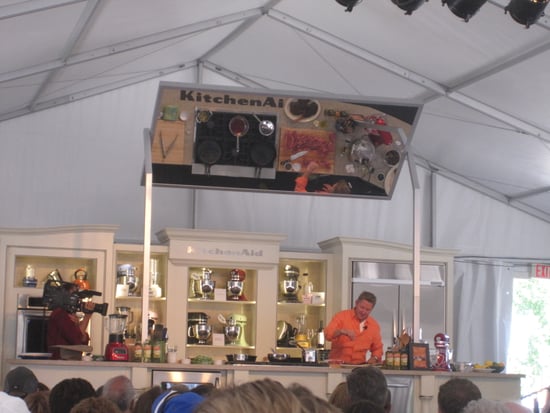 Quite possibly the king of Texas, chef Tim Love is known for his hearty cowboy cuisine. When I saw that he was scheduled to preform a seminar for the first time ever at the Food & Wine Classic, I knew I couldn't miss it. The crowded cooking tent was packed with enthusiastic carnivores eager to learn Love's secret to steaks. To find out what he had to say keep reading.


Make sure the grill (or grill pan) is super hot. To create a properly seared crust, the temp should be about 500°F.
Take care when selecting steaks. According to Love, you can't always trust the grade. A cut of meat that is labeled prime might not actually be prime. Choose steaks that have a nice pink color and rich marbling. Love's preferred cut is skirt steak because it's super juicy, flavorful, cheap, and cooks fast.

When it comes to steak, Love is a purist, "I prefer my meat to taste like meat and don't believe in marinating." He uses dry rubs or simply oil, salt, and pepper. For the latter, Love brushes meat with peanut oil (it has the highest smoking temperature) then seasons both sides with salt and pepper twice. "If you can't see the salt and pepper, it's not there."
Before placing it on the grill, bring the meat to room temperature.
Finish with citrus. Although it may seem odd, Love swears by fresh lemon juice and always squeezes it onto the meat just before it's finished cooking.
Let the meat rest before eating or slicing. For entertaining, Love actually pregrills his steaks. Then at the party, when it's time to eat, he'll place it on the upper rack of his barbecue and heat it (covered) until it's warmed through.
Don't overcrowd the grill. Leave 1/4 of a section open. If there is a flair up or fire, you'll have a place to move the meat to.
Do you have a steak tip? Share with us below!