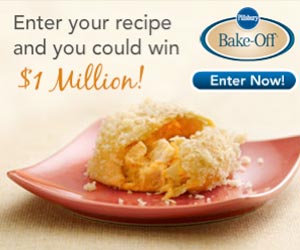 Don't miss your chance to be part of the Pillsbury Bake-Off® Contest. The 45th Bake-Off® Contest will award more than $1.1 million in cash, prizes, and trips.  
Enter and you could win the $1 million grand prize and $10,000 in GE kitchen appliances. Simply go to BAKEOFF.COM and submit your original recipe.
Remember to list each and every ingredient and its exact measurements, even garnishes — specifics are the name of the game here.
The stakes are high and the competition is sure to be inspiring, so grab that apron and get cooking — good luck!