Tips For Cooking For One
5 Tips on Cooking Healthy For One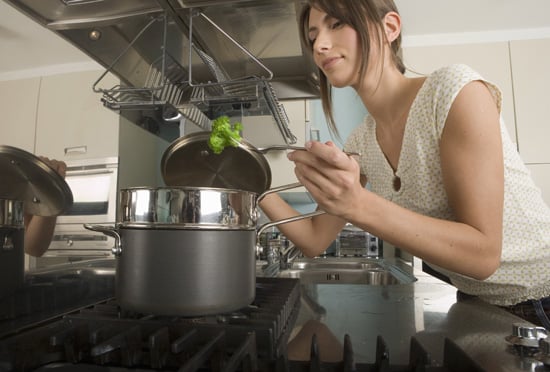 After YumSugar reader Dreamalittledream asked for some advice on cooking healthy for one, we got to thinking. It's definitely easier to stay committed to healthy cooking when you've got people to share it with — or a few mouths to feed! — but cooking for yourself need not be a lonely or trying experience. In need of some inspiration? Look no further. We've got you covered with five helpful tips:
Get that pantry stocked with good stuff. While your pantry can hold plenty of chips, cookies, and candy, it's time to make space for the new kids in town. Say good-bye to just sugar and white flour, and make new friends with ancient grains, dried beans, and delicious nuts. If you keep a solid assortment of these things you like, you'll never be in a bind for healthful and delicious choices.
Leftovers can be your friend, not your foe. I too know the hardships of looking at old leftovers in my fridge and doing my best to make them look delicious. Instead of just heating them up, think outside the box! If you have half of a chicken sandwich on bread or salad that's too soggy for your taste, heat up the chicken with some rice and vegetables. I typically make a big pot of soup at the beginning of the week that I enjoy all week long.
Want to learn more? Just keep reading.
Don't ignore your portion size. If you're making a recipe that yields four servings, divvy up everything beforehand so you've got enough for four meals. Making the point to control your portion size will help you get in tune with just how much you're eating or how much you're wasting. Once you get into a groove, you'll know how much to cook up for yourself.
Frozen foods can be delicious. You've come a long way since Hungry-Man frozen TV dinners. In a pinch, there are a ton of healthy options in perfect sizes for one. Head to your local grocery store to peruse your options; chances are, you'll be surprised. I'm particularly fond of Amy's Kitchen and Kashi frozen entrées.
When you see produce that looks fresh, don't pass it up. If you get into a habit of picking up fresh fruits and veggies when you see them around, you won't feel as hassled when incorporating them into your meal plan. Cooking up some whole-wheat pasta with sautéed veggies is a perfect meal fit for one.
Share with us: what are your favorite healthy meals for one? Share below in the comments — and don't be afraid to ask the YumSugar community for answers to any and all of your cooking conundrums!