Tips For Making Salads
Tips For Making a Stunning Salad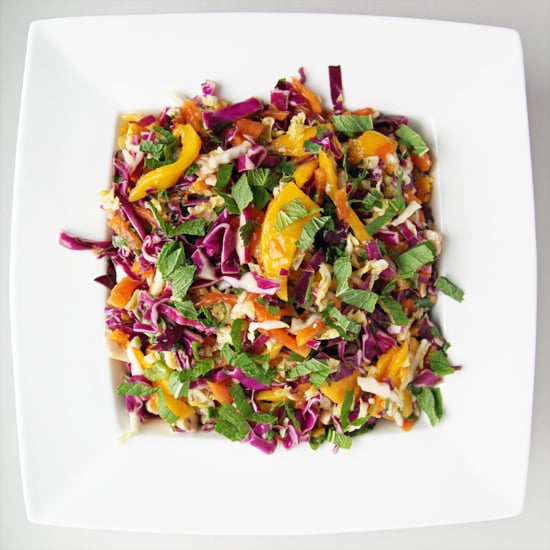 POPSUGAR Photography / Nicole Perry
When building salads, it's far too easy to get stuck in a rut. You know what works, buy the same ingredients, and inevitably eat green leaf lettuce with black olives, sliced tomatoes, and shredded carrots everyday. However, with a little creativity and an open mind at the grocery store, you can enjoy a fabulous variety of healthful yet crave-worthy salads on a regular basis. To get inspired, take a walk around the produce section and be inspired by the vegetables and fruits you come across. Try a new lettuce or pick up a veggie you're unfamiliar with. Just remember: from crunchy to creamy to crispy, a good salad has an assortment of textures (and colors). Here are a few ways to shake things up in the salad department.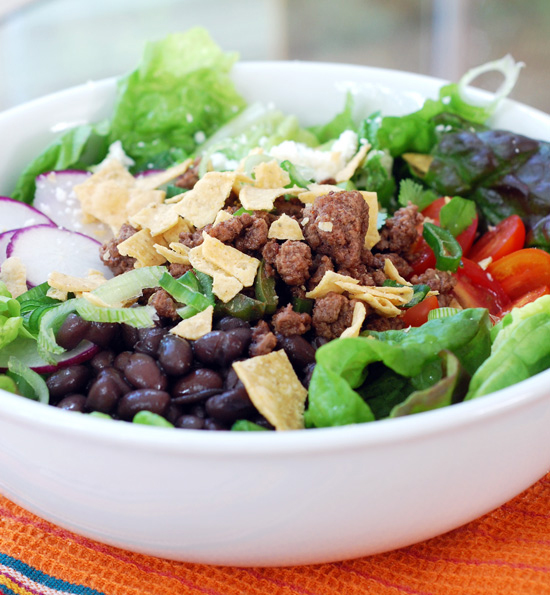 POPSUGAR Photography / Camilla Salem
Filling Proteins
Think beyond grilled chicken: Sliced steak, chunks of pork, and flaked fish are excellent additions. Deli meats, like salami, ham, and turkey are easily shreddable, too.
Don't forget cheese and nuts:To achieve the aforementioned crunchy and creamy textures, toss in goat or feta cheese and almonds or pine nuts. Hard cheeses, like manchego and parmesan, can be shaved onto the salad, or finely grated into the vinaigrette.
Grains are all important: Protein-rich grains like quinoa, brown rice, and barley add vegan heft to greens.
Repurpose leftovers: Toss leftover vegetables, grains, and proteins with greens the next day to make a one-of-a-kind salad.
POPSUGAR Photography / Camilla Salem
Flavorful Vinaigrettes and Herbs
Home-make vinaigrettes: The ratio of three parts oil to one part acid will never steer you wrong. Be creative and use different kinds of oil (like hazelnut oil or sesame oil) and acid (such as sherry vinegar or grapefruit juice), then season with extras like honey, mustard, tapenade, or Worcestershire sauce.
Add fragrant herbs: Herbs are a wonderful way to add fresh earthy flavor to salads. Use basil, parsley, and cilantro like you would a green, or scallions for extra bite.
POPSUGAR Photography / Anna Monette Roberts
Fruit and Veggies Galore
Use the season as inspiration: Incorporate produce that's at its peak, such as asparagus, Spring onion, peas, and radishes for Spring.
Don't be afraid of fruit: Berries, stone fruits, apples, citrus, melons, etc. are just as delicious in a salad as their vegetable counterparts. Fruit can also provide a necessary sweetness to balance the salad.
Turn to the canned aisle of the supermarket: Sun-dried tomatoes, roasted red peppers, garbanzo and kidney beans, and canned tuna are all ready-to-toss salad ingredients.
Combine raw elements with cooked components: Roasted or grilled vegetables — lik emushrooms, onions, asparagus, and broccoli — give salads a smoky depth.
Give it crunch: For added dimension, throw in homemade croutons, crumbled tortilla chips, or crispy baked pita bread.