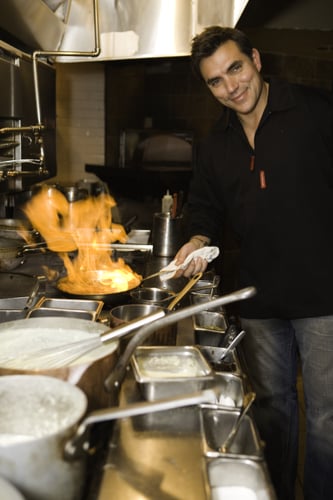 Today's the T-1 day mark for Thanksgiving, and if you're expecting a hoard of holiday feasters at your home tomorrow, you'll want everything to go smoothly. Between finagling oven and refrigerator space, prepping cocktails and appetizers, and ensuring there are enough place settings at the table, there's plenty to juggle, but it's very doable — if you keep a few things in mind! — we promise.
For a few extra pointers, we turned to Todd English, an expert who's not just got experience juggling all the elements in a Thanksgiving kitchen, but elements in many different Thanksgiving kitchens. The James Beard Award-winning chef toggles between 13 restaurants and a PBS show and authoring cookbooks (his latest, Cooking in Everyday English: The ABCs of Great Flavor at Home, was published last month). Keep reading to see Todd's advice for a seamless Thanksgiving.
Plan ahead. "Thanksgiving is my absolute favorite holiday — it's truly a chef's holiday! It's the one holiday dedicated totally to food, but you've got to plan ahead," English says. He recommends knowing who your guests are and how many people you're going to be cooking for, so you can give yourself the proper lead time to fix up a fantastic feast.
Cook ahead. "You can make your potatoes, salads, veggies, stuffing, and desserts all ahead of time so you're not stuck in the kitchen the day of, and you can enjoy the day with your family and friends, too," he says. We recommend braising meats, too.
Share the love — and the cooking. Even English isn't afraid to host a potluck. Take ownership of the turkey, then request each of your guests to bring a side dish or a dessert so that the cooking isn't all left on you. "This is great," he adds, "because it allows everyone to get involved and bring their own traditions and favorites to the table."
Don't forget about ambience. "Don't you want your table to look as good as your food?" he asks. If there's any time to pull out all of the dinner-table stops, it's Thanksgiving — bust out the good china and linens, light candles, play music, and keep the drinks flowing. Even a few simple Fall foods, like decorative squash or whole brussels sprouts stalks, can serve as themed centerpieces.
And finally . . . don't sweat the small stuff. Most importantly, you're there to enjoy good times with loved ones. "Remember what this holiday is really about, and don't stress yourself out over every little detail." And don't forget: it's all small stuff!
How do you make sure Thanksgiving in your household goes off without a hitch? Share your thoughts below.