Tiramisu Is Surprisingly Easy, Divine Dessert
Tiramisu is one of my favorite desserts. I especially love to order it at restaurants, but the two times I've made it at home, I was utterly disappointed with the results. The ladyfingers fell apart, the custard was runny, the final dish was a soupy mess, and I vowed never to make it again. However, when I saw a recipe in the January issue of Gourmet magazine devoted to classic Italian-American cooking, I decided it was time to face my culinary fears. I'm glad I did, the final result was scrumptiously successful: a rich, creamy tiramisu with pillowy filling and perfectly moist cake. The technique is simple, but an electric mixer is necessary. It's a great dessert for a dinner party or romantic meal, because it requires six hours of chill time — meaning it must be made in advance. I've added it to my repertoire, and will definitely be making this lovely dessert again. For you to do the same,
.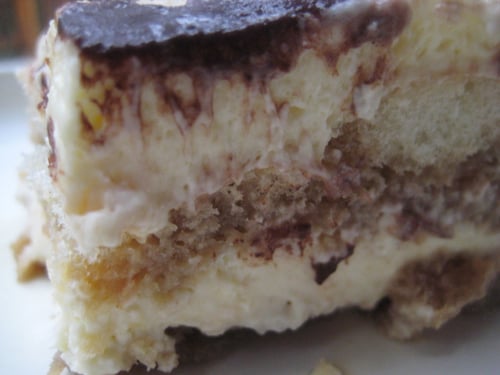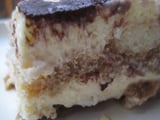 Ingredients
2 cups boiling-hot water*
3 tablespoons instant-espresso powder*
1/2 cup plus 1 tablespoon sugar, divided
3 tablespoons Tia Maria** (coffee liqueur)
4 large egg yolks
1/3 cup dry Marsala
1 pound mascarpone (2 1/2 cups)
1 cup chilled heavy cream
36 savoiardi (crisp Italian ladyfingers; from two 7-ounce packages)
Unsweetened cocoa powder for dusting
Directions
Stir together water, espresso powder, 1 tablespoon sugar, and Tia Maria in a shallow bowl until sugar has dissolved, then cool.
Beat egg yolks, Marsala, and remaining 1/2 cup sugar in a metal bowl set over a saucepan of barely simmering water using a whisk or handheld electric mixer until tripled in volume, 5 to 8 minutes.

Remove bowl from heat. Beat in mascarpone until just combined.
Beat cream in a large bowl until it holds stiff peaks.
Fold mascarpone mixture into whipped cream gently but thoroughly.

Dipping both sides of each ladyfinger into coffee mixture, line bottom of a 13- by 9- by 3-inch baking pan with 18 ladyfingers in 3 rows, trimming edges to fit if necessary.

Spread half of mascarpone filling on top. Dip remaining 18 ladyfingers in coffee and arrange over filling in pan.
Spread remaining mascarpone filling on top and dust with cocoa.
Chill, covered, at least 6 hours.
Let tiramisu stand at room temperature 30 minutes before serving, then dust with more cocoa.
Serves 10-12.
Make ahead: Tiramisu can be chilled up to 2 days.
*You can substitute 2 cups freshly brewed espresso for the water and instant-espresso powder.
**I had Kahlua on hand, so I used that instead of Tia Maria.
Information
Category

Desserts, Puddings/Mousse

Cuisine

Italian