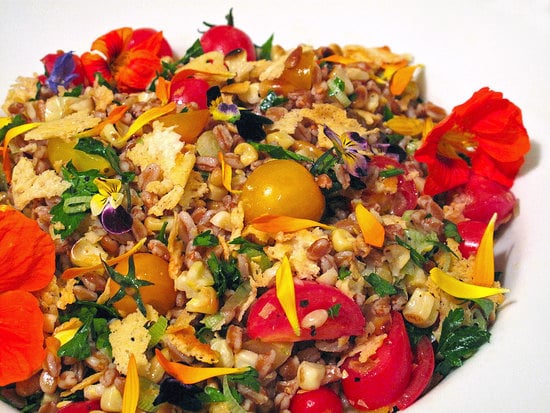 Farro is the latest ancient grain to make a mainstream comeback, and I've been cooking up a storm with the wheat variety, using it in place of rice to make "farrotto," adding it to soups, and utilizing it as the base for Asian-style vegetable bowls.
My favorite way to employ it during hot weather is with this ingenious seasonal salad by Melissa Clark. Start by toasting farro, until it's nutty and golden brown; toss in parsley, scallions, lemon juice, and cherry tomatoes, for a meatier riff on tabbouleh; then top with crumbled cheese fricos for a crispy, salty finish.
For more substance, I served this salad with a side of grilled shrimp and Italian salsa verde, but you could add other seafood like scallops or lump crabmeat. Or, as Melissa suggested, bits of salumi: "Cubes of pancetta or sopressata would be killer!" she told me. Great — I've got an excuse to make this again sometime soon. Keep reading for the basic recipe.

Toasted Farro Salad With Pine Nuts, Crispy Pecorino, and Caramelized Corn
From Melissa Clark
Ingredients
1 cup semipearled farro
2 ears sweet corn, shucked
1/4 cup pine nuts
4 ounces (1 cup) young pecorino, coarsely grated
1-1/2 cups cherry tomatoes, quartered if large
1/2 cup chopped fresh parsley
1/4 cup thinly sliced scallions
1 fat garlic clove, finely chopped
5 tablespoons extra-virgin olive oil, plus more for serving
1 teaspoon fresh lemon juice, plus more for serving
Coarse sea salt, to taste
Freshly ground black pepper, to taste
Directions
Preheat the oven to 350° F. Spread the farro on a rimmed baking sheet. Toast until fragrant, 15 minutes. Meanwhile, bring a large pot of salted water to a boil. Add toasted farro and boil until grains are tender but chewy, 20 to 35 minutes. Drain and transfer to a large bowl.
While the farro boils, preheat the broiler and arrange a rack 2 inches from the flame. Place corn on a baking sheet. Broil, turning occasionally, until lightly charred all over, 6 to 8 minutes (you can also do this on a grill). Let cool, then slice the kernels from the cob and add to the bowl of farro.
In a small skillet over medium heat, toast the pine nuts, tossing occasionally, until golden, about 5 minutes. Add to the bowl of farro.
Preheat a large nonstick skillet over medium-high heat. Divide the grated cheese into four equal-sized mounds. Sprinkle two mounds into the skillet (to form two crisps). Cook until the cheese is lacy and slightly set, 1 to 2 minutes. Flip with a thin, flexible spatula; cook until crisp and golden, about 1 minute. Transfer crisps to a paper towel-lined plate. Repeat with the remaining cheese. Let cool. Break crisps into bite-sized pieces.
Add the tomatoes, parsley, scallions, garlic, oil, and lemon juice to the bowl of farro. Season with salt and pepper. Spoon into bowls; drizzle with oil, sprinkle with lemon juice, garnish with cheese crisps, and serve.

Serves 4 to 6.
Information
Category

Grains , Salads

Cuisine

North American