Todd English and Eva Longoria Open Up Beso
Eva Teaches Us How to Make Tortilla Soup Last night celebrity chef/restauranteur Todd English and actress Eva Longoria celebrated the opening of their new restaurant Beso. The restaurant has been in the works for some time, and Eva has been involved in every level including the menu. In fact, she has even contributed recipes to the menu. Two of the house specialties are Eva's guacamole and her tortilla soup. She says:
I make the best guacamole in the world. And my tortilla soup . . . I am renowned for.
If you're curious to try Eva's tortilla soup, but can't quite make it to Beso then make it at home. Get the recipe, just
.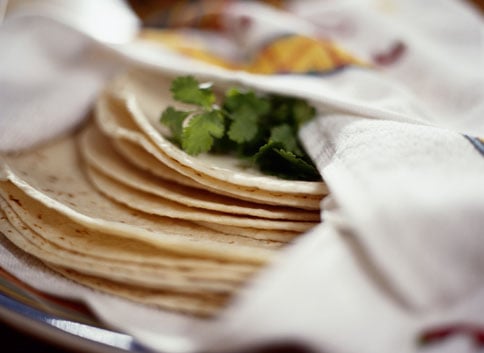 Eva Longoria's Tortilla Soup
From Eva Longoria via People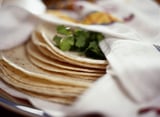 Ingredients
1 medium onion, medium dice
½ bunch of celery, medium dice
¼ cup garlic, chopped
1 pasilla pepper (a dried, mild chili), medium dice
1 jalepeño pepper, diced
½ cup olive oil
6 whole Roma tomatoes
6 cups hearty chicken stock
½ cup lime juice
2 boneless chicken breasts, cut into strips
2 tablespoons fresh cilantro leaves
½ teaspoon cayenne pepper
2 teaspoons chili powder
2 teaspoons ground cumin seed
1 tablespoon paprika
1 bay leaf
Salt and pepper, to taste
Tortilla chips, avocado, jalepeños or sour cream to garnish
Directions
Preheat oven to 350º. In a bowl, toss tomatoes with half of the oil, a pinch of black pepper, and 1 teaspoon of salt. Spread on a baking pan and roast until light brown, 25-30 minutes.
While tomatoes are roasting, in a stock pot over medium heat, sauté onion, celery, peppers and garlic in remaining oil, stirring frequently until soft and translucent.
Add chicken stock, cayenne, chili powder, ground cumin seed, paprika and bay leaf. Bring to a boil, then reduce to a simmer. Simmer 20 minutes.
When tomatoes are light brown and their skins have begun to peel back, remove from oven and add to the broth.
Add chicken breasts, cut into strips. Simmer 10 minutes.
Using an immersion hand blender, or in batches in a food processor or blender, blend soup until smooth. Season with salt and pepper to taste.
Serve piping-hot in large bowl, garnished with chopped avocado, tortilla chips, chopped jalepeños and sour cream. Other suggestions for garnish include diced red onion, chopped cilantro, salsa verde, sliced radishes and cooked, diced chicken. Adjust spices and seasonings to your taste. Enjoy!
Information
Category

Soups/Stews

Cuisine

Mexican