Tom Colicchio Reveals Details of Top Chef All-Stars
Tom Colicchio Says All-Stars "Gets a Little Messy"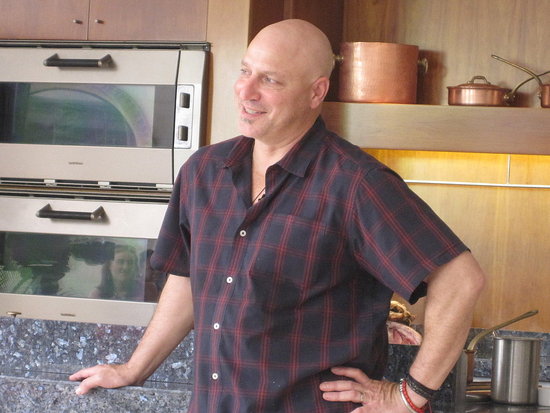 The season premiere of the much hyped about Top Chef All-Stars isn't until next Wednesday, Dec. 1, but head judge Tom Colicchio revealed some fun details about the series over the weekend at the Food and Wine and Rum festival in Barbados. Instead of just mentoring the cheftestants and judging the dishes, Colicchio says viewers can expect to see him in the kitchen. "It was the first time, I got into the kitchen and cooked with them, under the clock. It's harder than it looks." To find out what else Colicchio had to say, keep reading.
On judging the All-Stars: "We didn't change the way we judge a dish, but it was more difficult than any other season. It was harder to judge on solely the dish because we couldn't consider the personality of the chefs. We don't play favorites, but we are more supportive and more constructive than in the past. We try to give as much positive reinforcement as possible, but the chefs come out and we have to be honest."
On the season as a whole: "It's going to be a good treat, a good season. Some people I thought would do really well got tripped up in the beginning. It gets a little messy."
On Top Chef Desserts: "I'm not sure if Bravo is going to do a second season, but it would be cool to combine the two for a special episode or the finale. Since our chefs are always bad at desserts, it would be fun to see how they cook with the pastry chefs."
Are you excited for All-Stars? I am!