Tom Colicchio's Staple Ingredients
Tom Colicchio's Kitchen Staples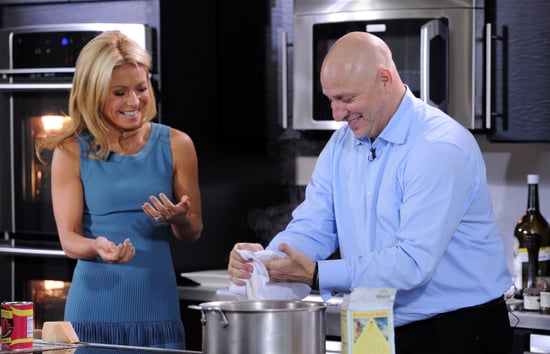 Unlike some chefs who don't cook at home, Top Chef head honcho, Tom Colicchio, often prepares quick and delicious dinners for his wife and two young boys. The key to throwing together a fast meal? Keeping your kitchen stocked with certain ingredients! At a recent event hosted by Electrolux, Colicchio and sous chef Kelly Ripa, fixed a tasty meal in minutes. Tom also shared his essential ingredients; to find out what he always has in his home kitchen, keep reading.
Cheese and cured meats. They have a good shelf life and make a super quick appetizer.
Pickles and olives. Serve in small bowls along side the cheese and cured meats and you'll have a pretty nice spread.
Pasta. Tom makes broccoli rabe and garlic pasta with parmesan cheese and black pepper at least once a week.
Roast chicken. The chef likes to keep a store-bought chicken in the fridge at all times. He and his wife pick at it all week. If unexpected guests arrive for dinner, Tom jazzes up the chicken with a homemade sauce.

Biscotti

. When it comes to dessert, the Italian cookies are a blank canvas. Offer with a scoop of ice cream, coffee, cheese, or fruit syrup.
Mascarpone cheese. Every morning for breakfast, Tom enjoys a slice of toast slathered with mascarpone cheese.
Tom also pointed out that he's not afraid of using store-bought items. Tapenade, red onion jam, walnuts in honey, and figs preserved in rum are some of the products he'll purchase to make a speedy, yet scrumptious dinner. What are your kitchen staples?