Tomato Mayonnaise Sandwich Picture
The Best Sandwich to Spotlight Summer's Juiciest Tomatoes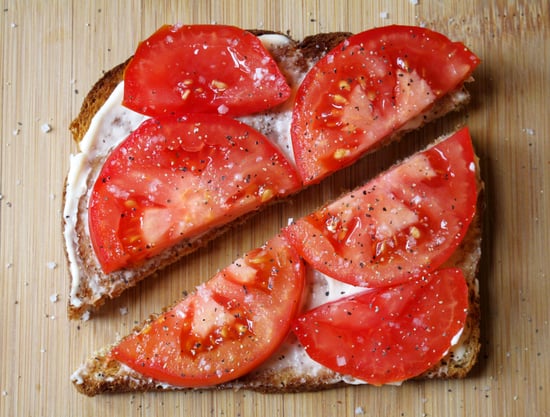 Watermelon and feta, radishes and butter, mangoes with chili and lime: along the way, I've discovered that certain elemental combinations seem to sing perfectly in tune with balmy weather. Here's another one I'd like to add to the list: tomatoes, mayonnaise, and toast.
The TMT follows a simple equation: crunchy toast plus creamy white sauce plus sweet and acidic tomato equals euphoria. I'm not a huge mayonnaise fanatic, but in this open-faced treat, it adds an element of Southern comfort, while also playing to a certain sense of nostalgia.
Any of the components can be played around with; sub in cherry tomatoes or even fried green slices. Or reach for a garlicky aioli — if you're a true mayo hater, olive oil works nicely, too. Rye bread, sourdough bread, and wheat bread all stand up nicely, but avoid choosing a bread that's too crusty. My favorite combo: giant red brandywines, whole wheat bread, and a generous slather of Hellman's mayo. What's yours?