Tomato and Peach Salad Recipe
Summer of Salads: Tomatoes and Peaches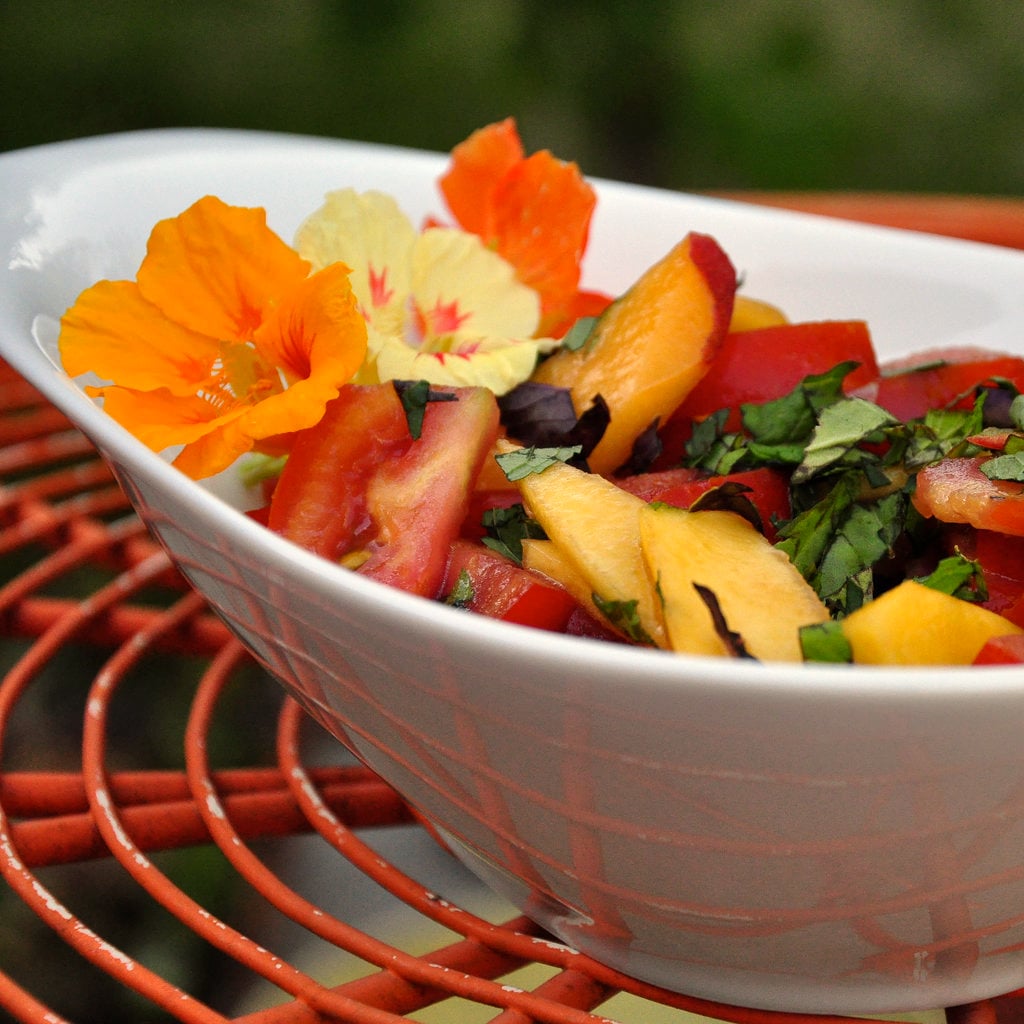 The farmers market is in full swing and fresh tomatoes have just started to arrive on the scene — I can't resist buying several pounds each week. While I love classic salads like Caprese, I enjoy trying slightly more unusual combinations, such as this tomato and peach salad with tangy orange vinaigrette. I'm growing a small garden this year, thus I used a bunch of different varieties of basil and mint; don't be afraid of mixing your herbs to enhance the flavor of any dish! You could easily substitute the orange juice in the dressing with other fruit juices, so have fun experimenting. Keep reading for this incredibly simple salad recipe.
Ingredients
1/2 small red onion (about 2 oz.)
1 Tbs. balsamic vinegar, and more if needed
2 lb. heirloom tomatoes (a mix of sizes — including cherries — and colors is nice)
1 lb. ripe peaches
2 Tbs. extra-virgin olive oil
2 Tbs. orange juice or mango smoothie drink, and more if needed
1 tsp. soy sauce, and more if needed
1/2 tsp. finely grated lemon zest
1/4 tsp. kosher salt, and more if needed
1/2 cup lightly packed whole small mint and basil leaves (or large ones torn into smaller pieces)
Edible flowers, petals separated if large, for garnish (optional)
Directions
Place the diced onions in the balsamic vinegar and set aside.
If the tomatoes are not fleshy, core the large tomatoes and stem any cherry or tiny tomatoes. Cut the larger tomatoes into large, evenly sized pieces. To do this easily, first cut the tomatoes crosswise into thick slabs, and then cut the slabs into large dice (3/4 to 1 inch wide). If the tomatoes are very irregularly shaped, just cut them into wedges and then cut the wedges in half. Cut the cherry or tiny tomatoes in half or into quarters. Put all of the tomatoes into a large shallow serving bowl.
Peel the peaches with a paring knife and slice them off the pit into wedges (whatever size you like, depending on the size of your peach). Add the peaches to the bowl.
Whisk together the olive oil, 2 Tbs. orange juice, 1 tsp. soy sauce, lemon zest, and 1/4 tsp. salt. Whisk in the balsamic vinegar and onions.
Pour the dressing over the tomatoes and peaches. Add half of the herbs, season with salt, and toss gently but thoroughly. Taste the salad and add more vinegar, soy sauce, and orange juice if you need to. (You can let the salad sit for a few more minutes and taste and season again if you like.) Before serving, toss again and sprinkle with remaining herbs and the flowers (if using).
Serves 6-8.
Information
Category

Salads, Fruit

Cuisine

North American