Tomato Soup Slow Cooker Recipe
Sunday Slow Cooker: Creamy Tomato-Vodka Soup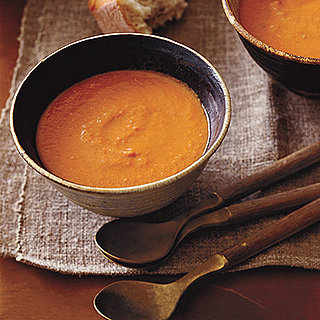 The slow cooker isn't just great for braised meats and stews; it's also the ideal vehicle for making smooth and creamy blended soups. This recipe is a staple of mine; it's wonderful on the fly because it calls for commonplace ingredients like broth and canned plum tomatoes.
When pureeing the hot soup, I recommend allowing it to cool slightly and partially covering it as you use an immersion blender. Or, opt for a standing blender if you're worried about being splashed by hot soup.
For a complete meal, serve with crusty homemade garlic bread and, if you want to add a little more protein, a topping of crispy baked prosciutto. See the recipe when you read more.
Ingredients
1 tablespoon extra-virgin olive oil
2 onions, sliced
2 to 3 small cloves garlic, smashed and peeled
One 32-ounce container (4 cups) vegetable broth
Two 28-ounce cans Italian plum tomatoes, drained
One 15-ounce can tomato sauce
1/4 cup vodka
6 sprigs flat-leaf parsley
1 teaspoon salt
1 teaspoon sugar
2 cups half-and-half
Directions
In a medium skillet, heat the olive oil over medium-high heat. Add the onions and garlic and cook, stirring often, for 30 seconds.
Add the broth, tomatoes, tomato sauce, vodka, parsley, salt and sugar to the slow cooker; add the sautéed onions and garlic. Cover and cook on high heat to stew the tomatoes, 5 hours. Discard the parsley sprigs.
Using a blender, immersion blender, or food processor, purée the soup in batches (be careful—the liquid is hot). Stir in the half-and-half. Cook in the covered slow cooker on low heat until heated through, 20 to 30 minutes.
Serves 8.
Information
Category

Soups/Stews, Crockpot

Cuisine

North American