Tomato Tart Recipe
A Stunningly Simple Side Dish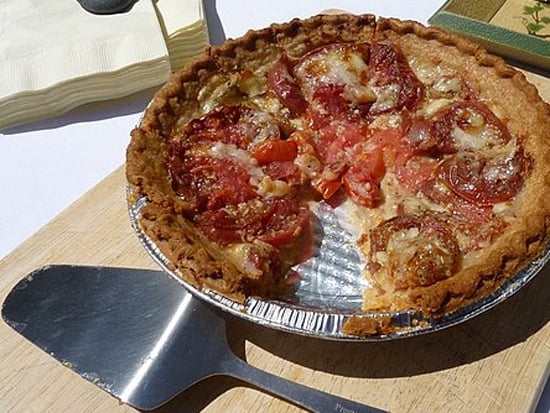 One of the best things about September is tomato season, and one of the most delicious things to make with tomatoes is a savory tart. Having a good tomato tart recipe is a must for home cooks. It's a multipurpose dish that oozes a French-like sophistication. Slice it up and serve with scrambled eggs and goat cheese at brunch, or pair with a mixed green salad for a light vegetarian dinner. If you don't have time to make pie crust from scratch, simply do what I did, and use a store-bought shell. Be sure to purchase firm tomatoes — otherwise the tart will end up being too juicy. Get my current favorite recipe for a tomato tart here.
Ingredients
1 head garlic
3 tablespoons olive oil
All-purpose flour, for dusting
1/2 Pie Dough
2 ounces Italian fontina cheese, grated (about 1/2 cup)
1 1/2 pounds firm but ripe tomatoes (4 medium), cored and sliced 1/4 inch Coarse salt and freshly ground pepper
Directions
Preheat oven to 350 degrees. Place garlic on a piece of aluminum foil. Drizzle with 1 tablespoon oil. Wrap to enclose garlic in foil, and place on a small baking sheet. Bake until soft and golden brown and the tip of a knife easily pierces the flesh, about 45 minutes. Remove from oven; set aside.
Raise oven temperature to 450 degrees. When garlic is cool enough to handle, using either your hands or the dull end of a large knife, squeeze the cloves out of their skins and into a small bowl; mash with a fork, and set aside. Discard the papery skins.
On a lightly floured surface, roll out dough to a 1/8-inch-thick circle, about 12 inches in diameter. With a dry pastry brush, brush off the excess flour; roll the dough around the rolling pin, and lift it over a 10-inch tart pan with a removable bottom. Line the pan with the dough, pressing it into the corners. Trim the dough so that it is flush with the edges; transfer to the refrigerator to chill, about 30 minutes.
Spread roasted garlic evenly on the chilled crust. Sprinkle with half of the cheese. Arrange the tomatoes on top of the cheese, in an overlapping circular pattern. Season with salt and pepper. Sprinkle with remaining cheese, and drizzle with remaining 2 tablespoons oil. Transfer to oven.
Reduce temperature to 400 degrees. and bake until crust is golden and tomatoes are soft but still retain their shape, 45 to 55 minutes. Transfer to wire rack to cool for 20 minutes, and serve warm.
Serves 8.
Information
Category

Vegetables, Side Dishes

Cuisine

North American