Tony Abou-Ganim's Cable Car Cocktail Recipe
Happy Hour: Cable Car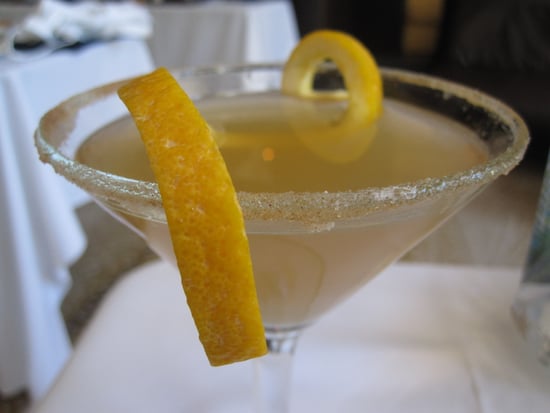 Since I'm something of a home mixologist, one of the seminars I looked forward to attending at the Food & Wine Classic was Tony Abou-Ganim's Create Your Own Specialty Cocktails. While I make tons of drinks at home, I always follow a recipe, so I was curious to see what Ganim had to say.
According to him, the key to a good cocktail is balance. Also, making drinks is like cooking; once you know the basic ratio, you can build upon it. Most libations consist of a base spirit, modifier spirit, citrus, and sweetener. To demonstrate his method, Ganim made his signature cocktail, the Cable Car.
He created this drink back in 1996 at the Starlight Room in San Francisco. It's a mixture of Captain Morgan, orange curacao, and fresh lemon sour. The Cable Car is a modern classic that's perfectly balanced; it's refreshing, smooth, and not too sweet or too potent. If you're new to making cocktails at home, I suggest you start with this recipe. Get it now.
Ingredients
Sugar and cinnamon for rim, if desired
1 ½ ounce Captain Morgan Spiced Rum
¾ ounce Marie Brizard orange Curacao
1 ½ ounce fresh lemon sour *
orange spiral for garnish, if desired
Directions
To sugar-cinnamon frost a cocktail glass, first chill the glass, rub the rim's circumference approximately ¾ inch in depth with a lemon wedge, then dip into a bowl of superfine sugar (regular granulated sugar does not adhere as well) and cinnamon.
In an ice filled mixing glass add Captain Morgan, orange curacao and fresh sour; shake until well blended.
Strain into a chilled sugar-cinnamon frosted cocktail glass and garnish with an orange spiral, if desired.
Makes 1 drink.
*To make a fresh lemon sour: Mix 2 parts fresh squeezed lemon juice with one part simple syrup.
Information
Category

Drinks, Cocktails

Cuisine

North American