Too Much Halloween Candy
All-Too-Common (Hilarious) Halloween Candy Problems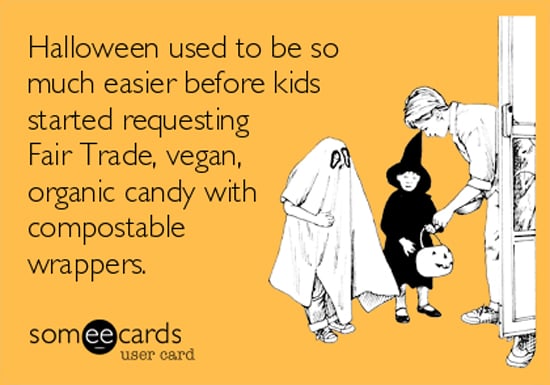 What's that, there's an eyeball stuck in your throat? Don't worry, that's totally normal this time of year. Before the kiddos come knocking, it's your job to stock up on chocolates and sweets and occasionally devour them yourself. But just know that it comes with consequences — very serious consequences special to the October holiday. Check out some of the best that have made it onto Twitter with the hashtag #Halloweencandyproblems, and remember: open those bags with caution.
Doomed is right.
Oh no. Candy bowl is officially out on the table. I'm doomed. #halloweenproblems

— Will Klose (@lonestarpoke) September 30, 2013
It could always be worse.
I have an eyeball stuck in my throat. #HalloweenCandyProblems

— Busy Mom (@Busymom) October 25, 2012
Bloated from the get-go.
"That looks snug. Are you bloated today?" -Esteem-boosting quotes from my costume fitting #HalloweenCandyProblems

— Tyler Brunsman (@TyBruns) November 2, 2011
Click here for more!
Give him a break.
Addicted to miniature Kit Kat candy bars... #HalloweenProblems

— Aaron Cox (@coxrocks1) October 2, 2013
If only . . .
For my next trick I'm going to make this entire bag of candy disappear. #HalloweenProblems

— WorkingBarbie (@WorkingBarbie) October 20, 2012
Pink > yellow.
Opening a pack of fun sized Starburst and getting two yellow ones is such a let down.....#gross #halloweencandyproblems

— Natalie I. (@hawkeyenat) October 30, 2012
But the no-teeth look is so in.
So I'm just hoping my teeth don't fall out tonight. I can imagine the whole no-teeth look not working for me #halloweencandyproblems 😶

— the cool kid🌙 BLM (@illuminiah) November 1, 2012