Top Chef 7 Episode 2 Recap
What Do You Think of Top Chef 7 so Far?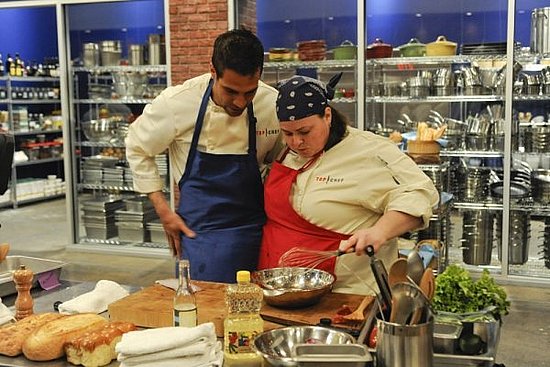 Last night, the second episode of Top Chef: DC went down, and it was totally action-packed. First came the Bi-partisandwich Quickfire, in which the 16 contestants teamed up in pairs and tried their best to single-handedly pile ingredients between bread while attached at the apron. The challenge was painfully cheesy, but Angelo was the right one to win immunity.
For the Elimination Challenge — seriously, who didn't see this coming? — the chefs took part in Michelle Obama's Let's Move! campaign, and made a four-course school lunch for 50 on a public school budget of $2.60 per person. Standing in for new chef judge Eric Ripert was the extremely attractive and intelligent White House chef Sam Kass.
I wasn't surprised by the taco team taking home the win, or for someone being eliminated over dessert. So far, I think Kenny and Angelo are the season's front-runners. How do you feel about Top Chef: DC?