Top Chef, MasterChef Victors Break New Ground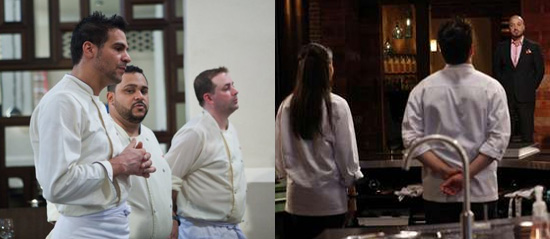 At virtually the same time last night, both Bravo's Top Chef and Fox's MasterChef crowned winners, and both victors defied the odds to take home the top prize. See who won and our thoughts on both, after the break.
In a not so shocking outcome, New Jersey native and former Bocuse d'Or USA competitor Kevin Sbraga took home the Top Chef: Washington DC prize, becoming the first-ever African-American to win the coveted title. When Padma Lakshmi announced that he was Top Chef, Sbraga's response was a stunned, "I am?" Given Ed's track record, I, too was surprised to see Kevin win — and even more surprised to see David Chang among the gaggle of guest judges. ("The concept of a TV show is something I don't feel comfortable with," he told me in an interview last year.)
Ironically, on a different channel, it was crunch time in what Gordon Ramsay called "the most pressurized contest tonight" — the inaugural American season of MasterChef. The unassuming Whitney Miller — the youngest contestant on the show at age 22 — beat out the oft-overconfident Dave Miller (no relation) to take home the $250,000 prize. But then again, you already knew that!
Were you surprised by the two outcomes? Are you, too, ambivalent about Kevin's win? Who did you feel should have won Top Chef and MasterChef?