Top Chef Ryan Scott Shows Us How to Make Croutons
In the Kitchen With Ryan Scott Last week I had the wonderful opportunity of going into the kitchen at San Francisco's Mission Beach Cafe. Chef Ryan Scott, a competitor on this season's Top Chef, invited me in for a crouton cooking lesson. The friendly, good-looking chef told me about his re-creation of the menu and his hopes to build the restaurant's status. With his TC experience behind him, Scott is busy focusing on cooking and making culinary appearances. His delicious food is comforting yet sophisticated, familiar yet complex. If you're in the Bay Area, I highly recommend checking out the cafe. His homemade croutons (found in everything from soups to salads) are the best I've ever tasted. If you aren't in the area, bring a little bit of Ryan into your home with this amazing crouton recipe.
Instead of writing out the recipe, Scott, a hands on chef, preferred to teach me personally how to make them. To go behind the scenes and learn how to make Chef Scott's scrumptious croutons, take a look at our exclusive video, and
.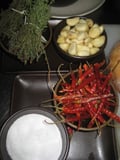 Ingredients
1 stick unsalted butter
1 bundle fresh thyme, tied together with cooking string
6-8 garlic cloves, peeled
4 dried arbol chilies
2-4 cups ciabatta bread, torn into bite-sized pieces
Directions
In a large saute pan over medium heat, melt the butter. When the butter is bubbling and melted (do not let it brown) add the thyme, garlic, and chilies. Saute for a couple of minutes, tossing to coat with the butter.
When you hear the thyme start to snap and pop, add the bread pieces.
Toss to coat. Cook, stirring or tossing occasionally for 5-7 minutes.
Meanwhile, preheat the broiler.
Place the bread under the broiler for 3-5 minutes until it is crisped and brown.
If desired, finish on the stove, with 2 more minutes of sautéing.
Remove the pan from the heat and transfer croutons to another dish to cool.
Remove the thyme, garlic, and chilies* from the croutons. Enjoy the croutons immediately or keep stored in an air-tight container for 2 days.
Makes 2-4 cups of croutons.
*Do not simply discard these ingredients. Chef Scott uses the thyme bundles to season stocks and the sautéed garlic adds depth to his appetizing aioli.
Information
Category

Other, Breads