Top Chef: Texas Contestant List
Take a Look at the Toques Lined Up For Top Chef: Texas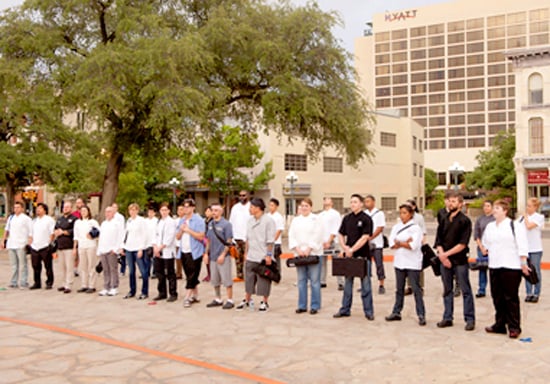 Bravo's just released the list of contestants for season nine of Top Chef, which premieres Nov. 2, and the network's switching things up a bit. Instead of one series location, this season will be shot between three cities, Austin, Dallas, and San Antonio, and there's a list of 29 hopefuls, which will be whittled down to 16 real cheftestants.
Charlize Theron, Pee-wee Herman, Patti LaBelle, Cat Cora, John Besh, and Tim Love will make appearances — and let's not forget new judges Emeril Lagasse and Hugh Acheson. Keep reading to see all the hopefuls competing on Top Chef: Texas.
Nyesha Arrington, 28 — Los Angeles, CA, Wilshire Restaurant
Lindsay Autry, 29 — West Palm Beach, FL, Omphoy Ocean Resort & Michelle Bernstein
Jonathan Baltazar, 36 — Long Beach, CA, Heights Cuisine
Ty-Lör Boring, 34 — Brooklyn, NY, Spasso
Molly Brandt, 30 — Hollywood, FL, Allure of the Seas for Royal Caribbean
Chaz Brown, 29 — New York, NY, Fatty Crab

Kimberly

Calichio, 27 — New York, NY, Fishtail by David Burke
Beverly Kim, 31 — Chicago, IL, Aria Restaurant
Chris Crary, 29 — Los Angeles, CA, Whist Restaurant in the Viceroy Hotel
Andrew Curren, 32 — Austin, TX, 24 Diner
Berenice deAraujo, 33 — Miami, FL, Sra. Martinez
Janine Falvo, 37 — Atlanta, GA, Briza Restaurant
Richie Farina, 28 — Chicago, IL, MOTO
Sarah Grueneberg, 29 — Chicago, IL, Spiaggia
Chris Jones, 30 — Chicago, IL, MOTO
Edward Lee, 38 — Louisville, KY, 610 Magnolia
Whitney Otawka, 30 — Cumberland Island, GA, Greyfield Inn
Simon Pantet, 30 — Seattle, WA, Twenty-Two Doors
Colin Patterson, 37 — Seattle, WA, Sutra
Laurent Quenioux, 51 — Los Angeles, CA, Vertical Wine Bistro
Paul Qui, 30 — Austin, TX, Uchiko Restaurant
Keith Rhodes, 39 — Wilmington, NC, Catch Restaurants

Grayson

Schmitz, 27 — New York, NY, Exec. Chef
Tyler Stone, 22 — Sacramento, CA, Personal Chef
Heather Terhune, 39 — Chicago, IL, Sable Kitchen and Bar
Chuy Valencia, 25 — Chicago, IL, Chilam Bilam
Nina Vicente, 29 — Seattle, WA, Spur Gastropub
Ashley Villaluz, 25 — Seattle, WA, Sous Chef
Dakota Weiss, 35 — Los Angeles, CA, 9:30 Restaurant and The Backyard
The roster includes mostly older, more experienced chefs, many of them from well-known restaurants. There are even two chefs from the same restaurant! Do you think this season has the potential to be just as interesting as the last?