Torrisi Italian Specialties: Rich Torrisi and Mario Carbone
Chefs Rich Torrisi and Mario Carbone Redefine Cuisine in America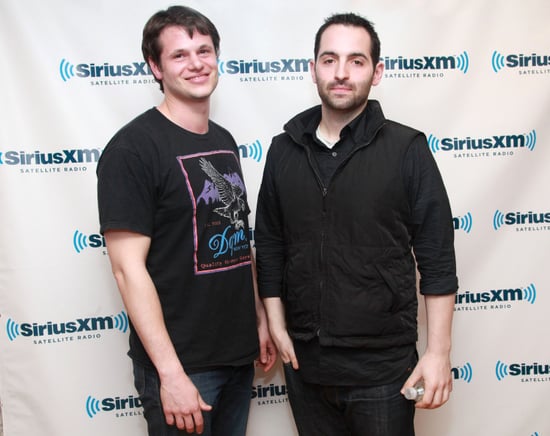 Mario Carbone and Rich Torrisi
You'd be hard-pressed to find pair of busier chefs than Rich Torrisi and Mario Carbone: in the past few years, they've opened two of New York's most sought-after restaurants, Torrisi Italian Specialties and Parm, and racked up countless nods, including the Food & Wine best new chefs award this Summer. At their flagship restaurant, Torrisi, they became known for innovative twists on American classics, from potato gnocchi with pastrami ragù (inspired by deli meat) to Champagne-foam-topped oysters Rocafella (inspired by Jay-Z).
Mario Carbone, Ray Isle, and Rich Torrisi at the NYC Wine & Food Festival
As the hosts of a New York City Wine & Food Festival seminar, Torrisi Family Dinner, the two showcased reinvented dishes like "fresh" polenta (polenta made with sweet, peak-season pure-corn cornmeal, milk, butter, local cheese, and fresh thyme) and French country-style pâté made with Italian beef sausage and burnt onions in lieu of pork. Over wine pairings from Ray Isle of Food & Wine, the culinary tour de force had an opportunity to talk about the inspiration behind their restaurants, what keeps them going, and what's next.
Italian sausage pâté, "fresh" polenta, and tuna rubbed with chili paste, lemon zest, and pine nuts
Rich Torrisi and Mario Carbone both attended the French Culinary Institute, and first met on a triple date. The two didn't get along: "We were so similar that we didn't like each other," Mario explained. They bonded while working at Café Boulud and eventually moved in as roommates. (Even today, the two still live in the same building.) In 2009, while the restaurant world was focused on Roman, Neapolitan, and other Italian regional cuisines, the two decided to open a restaurant highlighting Italian heritage in America. Genovese cuisine? Not so much: this was a new genre that they called "New Yorkese" cuisine. "We wondered, 'What would happen if we opened [an Italian-inspired] restaurant with no Italian ingredients?'" Mario recalled.
Italian sausage pâté with burnt onions and sautéed peppers
The two chefs followed a mandate that they would not use any ingredients from Italy, and that included wines. It was a brave step to take at a time when Italian-American food wasn't taken seriously. "It wasn't cool to cook that food . . . on a high level," Rich said. But the audience (and accolades) soon followed. As demand grew, the pair decided to open Parm, a casual eatery next door to Torrisi that served baked ziti and meatball parm sandwiches. Of Parm, Mario said, "We make straightforward Italian red sauce food. Making a great version of that is its own kind of challenge; you can't present it to someone in a newfangled way and call it eggplant parm."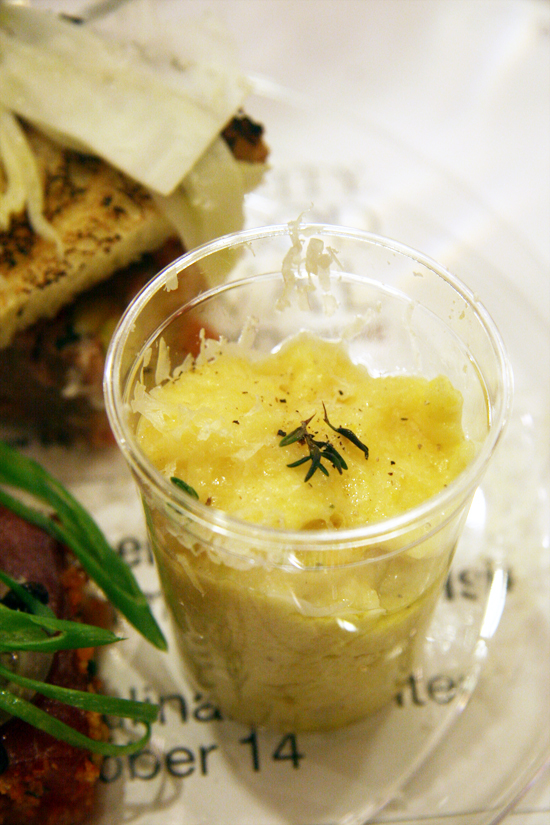 "Fresh" polenta made with peak-season corn kernels
Now they're busy with their newest venture, Carbone, which is focused on cooking more in the style of Mario. "Torrisi really takes on Rich's style and precision," Mario explained. "It's a beautiful, interpretive restaurant." For Carbone, the focus will be on Mario's passion — great Italian-American restaurants — and they've singled out the year of 1952 as their muse. "Think Michael Corleone vs. Vito Corleone," he said. The restaurant, which opens in the West Village in late 2012/early 2013, will focus on the food of first-generation Italians born in America.
Mario Carbone, Ray Isle, and Rich Torrisi at the seminar
It's unclear what they'll do after Carbone opens, but it's probably not going to be nothing: both chefs have been going at a backbreaking pace since Torrisi hit the restaurant circuit three years ago. "Women don't put up with us," Mario admitted, adding, "Downtime makes you nervous. There's something really twitchy about the day off."
Photos:
Getty
; Anna Monette Roberts