Traditional French Navarin of Lamb Recipe
Embrace the Season With Navarin of Lamb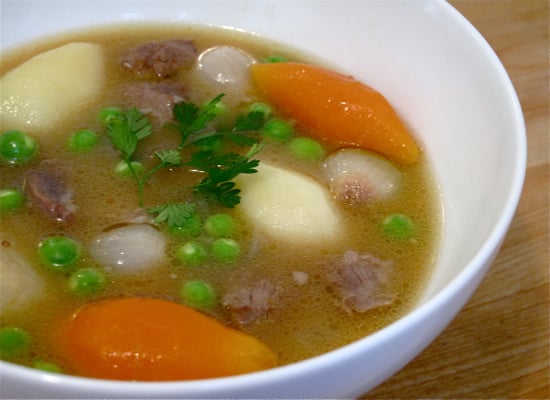 For Easter this year, I decided that rather than serving my usual glazed ham, I'd opt for another meat that's emblematic of the season: lamb. This Sunday, I'll be making navarin d'agneau printanier, a classic French stew of young lamb with springtime vegetables. With its colorful turned vegetables floating in light broth, and the use of lamb shoulder, fresh peas, and sprigs of chervil, this classic is like Spring comfort in a bowl. For a stunning and seasonal dish that's sure to impress guests, read more.
Navarin of Lamb
Adapted from Saveur
Ingredients
2 tablespoons canola oil
1-1/2 pounds trimmed lamb shoulder, cut into 1-inch cubes
Kosher salt and freshly ground pepper, to taste
5 medium carrots (1 chopped, 4 peeled and cut into 2-inch pieces)
1 medium yellow onion, chopped
2 cloves garlic, crushed
2 tablespoons flour
1 tablespoon tomato paste
4 medium turnips, peeled and cut into 2-inch pieces
4 medium new potatoes, peeled and cut into 2-inch pieces
3 tablespoons unsalted butter
2 teaspoons sugar
1 bouquet garni
12 pearl onions, peeled
1/3 cup fresh peas
Finely-chopped chervil or parsley, for garnish
Directions
Heat oven to 350ºF. Heat oil in a 6-quart Dutch oven over medium-high heat. Season lamb with salt. Working in batches, add lamb and cook, turning once, until browned, 8 to 10 minutes. Transfer lamb to a plate; set aside.
Add the chopped carrot and yellow unions and cook, stirring occasionally, until vegetables are soft and brown, about 10 minutes.
Add garlic, flour, bouquet garni, and tomato paste and cook, stirring often, until tomato paste begins to brown, about 2 minutes.
Stir in 6 cups water and reserved lamb. Cover, bring to a boil, and transfer to oven; cook until lamb is tender, about 50 minutes.
Using a slotted spoon, transfer lamb to a plate and cover with foil to keep warm.
Set a sieve over a 4-quart saucepan and strain cooking liquid. Discard solids and bouquet garni. Bring liquid to a boil over medium-high heat, skimming surface occasionally; cook until reduced to 2-1/2 cups, about 25 minutes. Season to taste with salt and pepper. Set liquid aside.
Meanwhile, using a paring knife, trim each piece of remaining carrots, as well as the turnips and potatoes, into elegantly tapered football shapes (alternatively cut them into a large dice). Set potatoes aside in a bowl of water.
Heat a 12-inch skillet over medium-high heat and add carrots, butter, sugar, salt, and 1 cup water. Partially cover and cook for 10 minutes. Add turnips and pearl onions, partially cover, and continue cooking until liquid has evaporated and vegetables are tender, about 10 more minutes.
Uncover and continue to cook, swirling skillet, until vegetables are golden brown, about 3 minutes. Add 2 tablespoons water, swirl skillet to glaze vegetables, and remove from heat; set aside and keep warm. Season with salt and pepper.
Bring a 4-quart saucepan of salted water to a boil. Add the reserved potatoes, reduce heat to medium-low, and simmer until tender, about 15 minutes. Using a slotted spoon, transfer potatoes to a bowl; set aside.
To serve, put the lamb, carrots, turnips, pearl onions, potatoes, and peas into the sauce and cook until hot, about 2 minutes. Divide the stew between bowls. Garnish with chervil.
Serves 4.
Information
Category

Soups/Stews, Stew

Cuisine

French