Traditional Gingerbread Cookie Recipe
'Tis the Season For Gingerbread Cookies
Making a batch of gingerbread cookies is an essential for the holiday season: not only are they tasty, but your house is bound to smell like Christmas as they bake. These cookies are crisp on the outside and chewy in the center, perfect with a hot cup of tea and a roaring fire.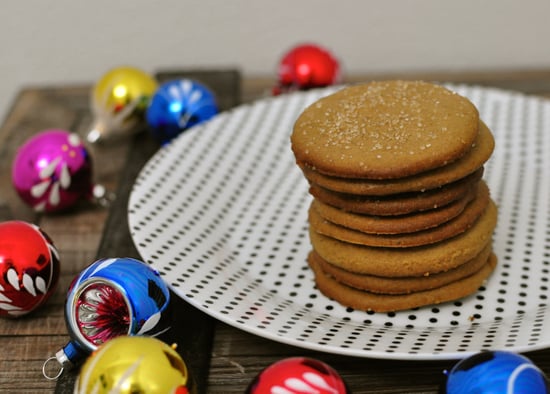 The extent that you decorate these cookies is up to you. Maybe you want to use a small straw and poke a hole in each cookie so they can be strung onto the tree with a little bit of ribbon. Alternatively, pull out those cookie cutters, and let the family go wild with their decorations.
Or keep it really simple like I did here and use a drinking glass to make perfect circles and sprinkle the cookies with sugar before baking. It isn't too late to get into the holiday mood, so keep reading for the recipe.
Ingredients
2 cups all-purpose flour (spooned and leveled), plus more for rolling
2 teaspoons ground ginger
1 teaspoon ground cinnamon
1/2 teaspoon ground nutmeg
1/4 teaspoon ground cloves
1/4 teaspoon baking soda
1/4 teaspoon salt
1/2 cup (1 stick) unsalted butter, room temperature
1/3 cup packed dark-brown sugar
1/3 cup unsulfured molasses
1 large egg
Decorating sugar or sprinkles (optional)
Directions
In a medium bowl, whisk together flour, spices, baking soda, and salt. Set aside.
With an electric mixer, beat butter and brown sugar until smooth. Beat in molasses and egg. With the mixer on low, add the dry ingredients. Mix just until a dough forms.
Place the dough on floured plastic wrap. Pat into an 8-inch square. Wrap well. Chill until firm, 1 to 2 hours.
Preheat oven to 350°F. Divide dough in half. Working with one half at a time (rewrap and refrigerate other half), place dough on floured parchment or waxed paper. Roll it out 1/8 inch thick, turning, lifting, and flouring dough (and rolling pin) as needed. Freeze dough (on paper) until firm, about 20 minutes.
Loosen dough from paper. Cut out shapes, and transfer to baking sheets. Decorate with sugar or sprinkles, as desired.
Bake until firm and edges just begin to darken, 10 to 18 minutes, depending on size. Cool completely on baking sheets.

Makes 36 cookies.
Information
Category

Desserts, Cookies