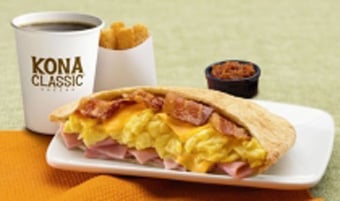 The latest twist in the fast food breakfast wars shows Americans are hungry for a hearty — but healthy — start.
Four months after debuting its calorie-conscious morning sandwiches, Subway has declared its breakfast a success, with sales exceeding expectations and more sandwiches on the way.
Meanwhile, Jack in the Box announced its latest product, The Breakfast Pita Pocket, will also be a fit-friendly morning option. The fast food chain's new item, priced at $2.69, will feature a whole-grain pita pocket with eggs, bacon, ham, and American cheese.
I'm not surprised to learn that specialty coffee drinks and breakfast sandwiches are the fastest-growing items in fast food. Wendy's and Taco Bell are both rolling out programs next year, and I'm willing to bet there'll be at least one healthy morning option on each. Are you happy to see these chains offering healthier breakfast? Do you ever eat fast food in the morning?