Tried and Tested: Starbucks Card Mobile App
Testing Out the Starbucks Card Mobile App, New Today
It was only a matter of time: this morning, Starbucks launched a new mobile app that enables customers to pay for any food or beverage using the technology of a smartphone.
The Starbucks Card Mobile App is designed for iPhones, the iPod Touch, and the BlackBerry and should work at 7,500 locations in the US, including the stores inside Target. The app allows users to view and reload their Starbucks card balance, find participating locations, and check on card rewards. This morning, I tested it out. To see my thoughts, keep reading.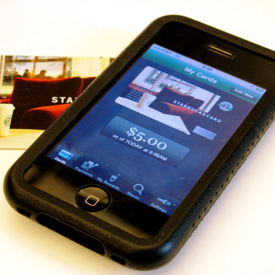 I found it worked efficiently as promised. It's a more convenient — and even better, card-free — way to pay, but I wished it'd been integrated into the existing Starbucks app, as opposed to being a separate download altogether.
The new technology leaves me fantasizing about other Starbucks capabilities of the future. When will it follow in the footsteps of Chipotle and take my custom order of a tall coffee in a grande cup with two inches of cold soy over the mobile interwebs? That remains to be seen.