Trinidad Moruga Scorpion: World's Hottest Pepper
Meet the World's (New) Hottest Pepper
If Valentine's Day wasn't hot enough for you, then consider a new way to get fired up, with what's been identified as the world's hottest pepper.
Researchers at the New Mexico State University Chile Pepper Institute has identified the Trinidad Moruga Scorpion as the most potent pepper in the world, surpassing even the bhut jolokia in searing heat.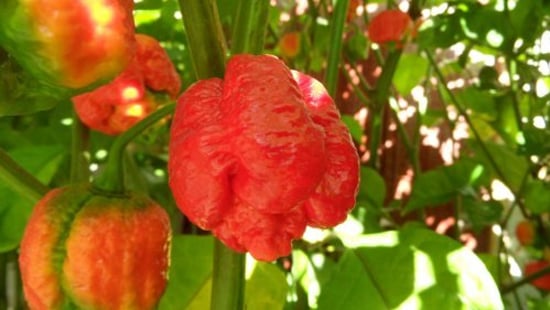 The institute's researchers were prompted to establish a benchmark for heat levels, after hot sauce makers and other spicy pepper industry insiders claimed there wasn't enough scientific proof of which chiles were actually hottest. The record-holding bhut jolokia, which was certified as the planet's hottest pepper in 2007, clocks in at one million Scoville units, while some individual Trinidad Moruga Scorpion plants reached a whopping two million.
No doubt some new hot sauces will follow, but proceed with caution: a single seed from this pepper will cause puffy, watering eyes, a runny nose, and a burning sensation that can last for hours. Is this something you'd ever dare to try?