Tropical Mango Dreamsicle With their tart, sorbet-like outside and smooth center, I love classic orange creamsicles. As I continue my popsicle obsession, I decided to experiment with my own variation. Using mangoes and lime, I made creamsicles with a tropical twist!
The tartness of the lime zest perfectly complements the sweetness of the mango and the creaminess of the vanilla ice cream. Replicating the ice cream center of a creamsicle proved extremely difficult (believe me I tried!) so instead, I opted for a swirl effect by alternating layers of mango-lime puree and ice cream.
If you love the flavor of fresh tropical fruit and want to learn how to make these exotic creamsicles,
!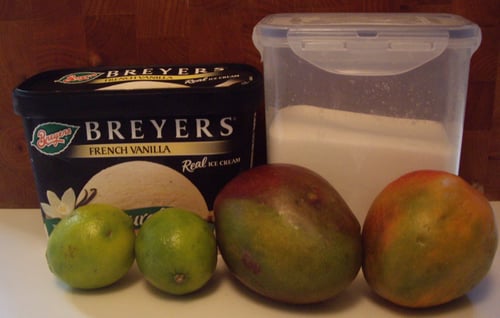 Mango-Lime Creamsicle
Original Recipe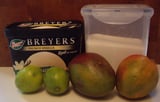 Ingredients
2 large mangoes
2 limes
1 1/2 cups of store-bought ice cream
1/4 cup sugar
Directions
Zest and juice the limes, reserving the zest and juice in a bowl.
Dice the mangoes into small pieces: Cut the mango in half lengthwise. With a small sharp knife cut, score the flesh both horizontally and vertically. Pushing on the skin of mango, flip it inside out and cut off the flesh. Add sugar and mangoes to the bowl with lime zest and juice. Stir to combine.
Place the mixture in a blender and puree until smooth.
Fill the popsicle molds alternating layers of the mango puree with layers of the store bought ice cream.
Place in freezer and wait patiently.
Makes 6 popsicles.
Information
Category

Desserts, Frozen

Cuisine

North American