Try Chick-Fil-A's Spicy Chicken Biscuit For Free
Reserve a Spot to Try Chick-Fil-A's Newest Menu Item on the House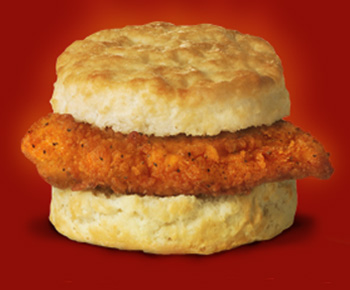 What's better than a warm biscuit topped with spicy breaded chicken? Getting it totally gratis. In the New Year, drive-thru poultry king Chick-fil-A hopes to join in on the fast food breakfast wars with a biscuit sandwich filled with amped-up breaded chicken.
Starting today, you can make a reservation to try one for free by signing up on the event website. The $2.25 item won't be added to the Atlanta-based chain's menu until Monday, Jan. 10, 2011, but choose your preferred location and time, and you'll be given a chance to take an early look at the sandwich from Jan. 3 to Jan. 8.
It'll be interesting to how well this product fares against a rather similar one at Wendy's, and whether it helps Chick-fil-A gain a piece of the ever-competitive breakfast market. If you have a chance to preview the item, let us know what you think!