Tuna Tartare Recipe
Killer App: Tuna Tartare on Rice Crackers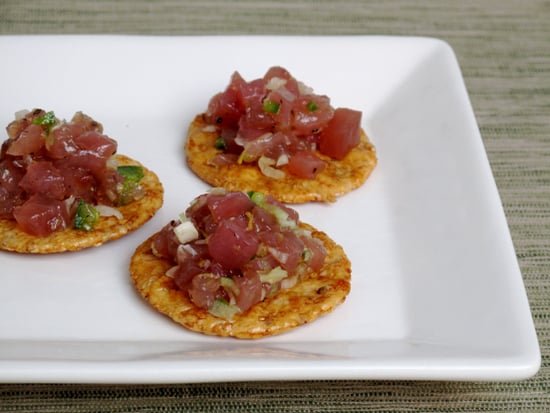 I just returned from the islands of Hawaii, where the proliferation of just-caught seafood is enjoyed in a bevy of raw fish preparations, from ceviche to poke. Although it's available stateside, I've longed for the chance to enjoy glistening cubes of crudo for a reasonable price at just about every meal.
For a little taste of what I've been missing, I created these soy-glazed rice crackers topped with luscious ruby jewels of tuna tartare. Unlike the standard caper-and-lemon tartare mix, this version is Asian-inspired, but lacks the traditional soy sauce that characterizes a Hawaiian poke. That's where the Japanese rice cracker base, which gives the fish a textural contrast, comes in! Want the fast, easy, healthy recipe for your next party? Then read more.
Ingredients
1/2 pound sashimi-quality tuna fillet, preferably bigeye or yellowfin, cut into 1/4-inch dice
2 tablespoons finely minced onion
1 tablespoon minced green or red jalapeño chili, seeded if desired
1 tablespoon finely minced green onion, white and light green portions
3/4 teaspoon grated lemon zest
2 tablespoons olive oil
2 tablespoons Asian sesame oil
Kosher or sea salt and coarsely ground pepper, to taste
1 4-ounce package teriyaki or soy-glazed brown rice crackers (about 16 rounds)
Directions
In a bowl, carefully and gently combine the tuna, onion, chili, green onion, lemon zest, olive oil, and sesame oil. Season generously with salt and pepper to taste.
Mound the tuna mixture evenly on brown rice crackers. Serve immediately.
Makes about 17 tartare bites.
Information
Category

Appetizers, Finger Foods

Cuisine

North American