Turkey and Cranberry Leftover Pizza Recipe
Thanksgiving Leftovers: Turkey & Cranberry Sauce Pizza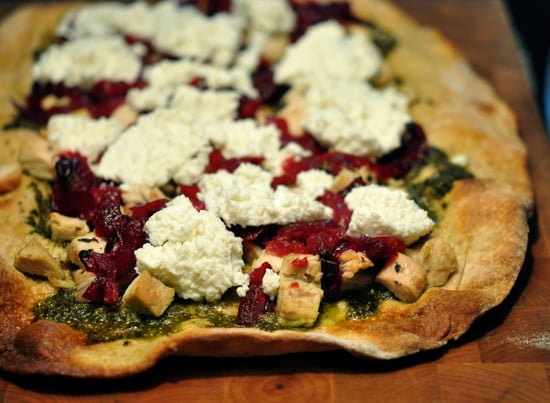 Post-Thanksgiving, it's always tough to figure out what to do with all of those leftovers. Rather than re-creating the same plate you had the day before, give a leftover Thanksgiving pizza pie a try! This turkey, pesto, and cranberry pizza is a hearty meal with plenty of savory and sweet flavors. I used a caramelized onion cranberry sauce but if you had just a plain cranberry on Turkey Day, quickly sauté some onions to mix in; they'll add an edginess to the pizza. Mozzarella, goat cheese, or ricotta would all be a great choice for a cheesy topping — just pick your favorite! Pull out that pizza stone and give your leftovers a makeover with this creative pizza recipe.
Turkey, Cranberry, & Pesto Pizza
From Lauren Hendrickson
Ingredients
1 package of store-bought pizza dough
Flour, for dusting
1/2 cup basil pesto
1/2 cup ricotta, fresh goat, or shredded mozzarella cheese
1 cup of leftover turkey, cut into 1/2-inch cubes
Salt, to taste
Directions
Preheat the oven to 500ºF with a pizza stone or cookie sheet inside.
Flour the pizza dough to ensure it doesn't stick, then roll out the pizza dough to preferred thickness. Place the pizza dough on the hot pizza stone and pre-cook for about 5-8 minutes.
Once the crust begins to turn golden, pull out the crust and top with pesto, cheese, turkey, and cranberry sauce.
Place the pizza back in the oven and cook until the cheese has melted and everything is warm. Sprinkle with sea salt and serve.
Serves 4.
Information
Category

Main Dishes, Pizza