Turkey Quesadilla Recipe
Turn Thanksgiving Leftovers Into Quesadillas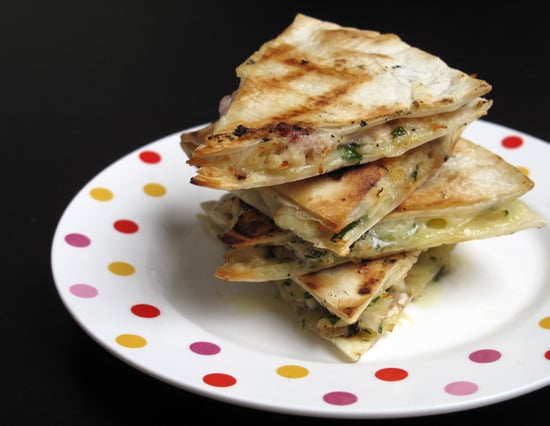 Photo: Susannah Chen
When it comes to Thanksgiving leftovers, the turkey and cranberry sandwich is a classic, but the duo work just as well layered between two tortillas. These cheesy, addictive quesadillas are a delicious snack or light meal. Use my recipe as a guide and adapt the filling to suit your family's liking.
Stir minced jalapeños and chipotles in adobo with leftover sweet potatoes and slather on the tortillas instead of using cranberry sauce. Substitute monterey jack, brie, or parmesan for the white cheddar cheese. Enjoy with sour cream, sliced avocado, salsa, or alone. Get the quick and easy turkey quesadilla recipe.
Turkey and Cranberry Quesadillas
From Katie Sweeney, YumSugar
Ingredients
2 cups roast turkey, shredded
1 tablespoon chopped parsley
Salt and freshly ground black pepper
8 small flour tortillas
1/2 cup cranberry sauce (optional)
1 cup white cheddar cheese, shredded
1 tablespoon unsalted butter, melted
Sliced avocado, for serving (optional)
Directions
Toss the shredded turkey with the chopped parsley. Season with salt and pepper.
Place 4 tortillas on a work surface. Spread with 1-2 heaping tablespoons of cranberry sauce (if using). Cover with the turkey and parsley mixture and cheese. Top with the remaining 4 tortillas to close the quesadillas.
In a large grill pan or skillet, brush 1 tablespoon butter over medium-low heat. When the butter is melted place one of the quesadillas in the pan. Cook until the cheese is melted and the tortilla is browned, about 6-8 minutes. While it cooks, spread the other side with a little bit of butter. Flip and cook on the other side, until the cheese is melted, the meat is heated through, and the outside is browned and crispy.
Repeat with the remaining quesadillas. Slice into wedges and enjoy with the avocado, if desired.
Serves 6-8.
Information
Category

Poultry, Main Dishes

Cuisine

Mexican