Twice-Glazed Asian Barbecued Chicken
Sunday BBQ: Twice-Glazed Asian Barbecued Chicken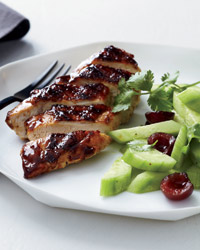 The Summer is coming to a close, so be sure to get in all your barbecuing before the leaves start falling. Tired of steak? Why not try chicken? Barbecued chicken can get a bad rap when it's doused with a ho-hum sauce (and since it's often prepared too dry).
With this sticky sweet Asian sauce (which can be made in advance), this is a far-from-boring barbecued chicken recipe. Crispy skin and a tangy, garlicky, peppery kick will get your taste buds excited. Check out the recipe when you keep reading.


Twice-Glazed Asian Barbecued Chicken
Ingredients
6 garlic cloves, unpeeled
1 1/2 teaspoons black peppercorns
1 onion, coarsely chopped
1 1/2 tablespoons vegetable oil
1/2 cup oyster sauce
3 tablespoons soy sauce
1/3 cup water
1/4 cup white wine vinegar
4 boneless, skin-on chicken breast halves (about 6 ounces each)
Directions
Preheat the oven to 350°. Wrap the garlic cloves in foil and bake for about 30 minutes, until soft. Squeeze the garlic from the skins into a small bowl.
Meanwhile, in a medium skillet, cook the peppercorns over moderately high heat, shaking the skillet occasionally, until they are smoking and fragrant, 2 minutes. Transfer the peppercorns to a spice grinder and let cool completely, then grind to a coarse powder.
In the same skillet, cook the chopped onion in the vegetable oil over moderate heat, covered but stirring occasionally, until the onion is caramelized, about 10 minutes. Add the roasted garlic, ground black pepper and oyster sauce and cook over moderately high heat, stirring, for 1 minute. Add the soy sauce and cook until reduced by half, about 1 minute. Add the water and white wine vinegar and simmer over moderate heat until the barbecue sauce is very thick, about 5 minutes. Transfer the barbecue sauce to a blender and puree until smooth.
Light a grill. Oil the grates and grill the chicken skin side down over moderately high heat until the skin is crisp, about 7 minutes. Turn the chicken and cook over moderate heat until the chicken is almost white throughout, about 5 minutes. Generously brush the barbecue sauce onto the skin; turn and grill until glazed, about 30 seconds. Generously brush the other side with sauce, turn and grill the chicken until glazed. Repeat the glazing on both sides. Transfer the chicken to a work surface to rest for 5 minutes.
Slice the chicken breasts crosswise and transfer to plates.
Make Ahead: The barbecue sauce can be refrigerated for up to 3 days.
Serves 4.
Information
Category

Poultry, Main Dishes

Cuisine

Other Asian