Tyler Florence Restaurants to Serve Baby Food
Order a High Chair! Tyler Florence's Restaurants to Serve Baby Food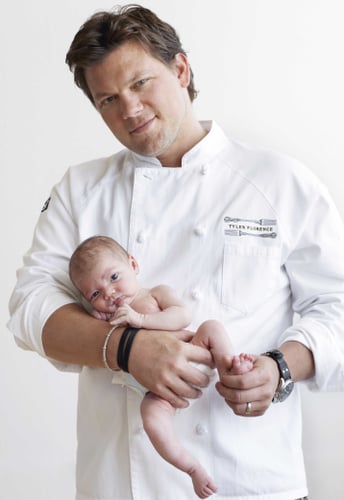 Table for three, and pull up a high chair please! Tyler Florence's ultimate dining experience will include a baby food option at his three Bay Area restaurants set to open this Summer and beyond. While the concepts of the celebrity chef's first (and subsequent) eateries — San Francisco's Wayfare Tavern, El Paseo in Mill Valley, and Rotisserie & Wine in Napa — are not tot-centric, Florence told us yesterday that he plans to have his own baby food, Sprout, available to parent patrons who bring in their children.
The father of three — Miles, 14, Hayden, 3, and Dorothy, 2 — launched his organic foods for the small set a year ago. Florence said that while most of his competitors "steam the entire fruit or vegetable with skin and seeds and then puree it," he uses techniques like roasting to caramelize produce and bring out the natural sugars. The result is delicious, pure food. It's the difference, he says, between a chef's approach and "those who create most baby foods — a food scientist and a marketing person." Florence's "lab" is his home kitchen, where he perfects all his appetizing entrees from roasted bananas and brown rice to pasta with lentil bolognese using fresh ingredients and a blender. And, while Florence is conscious that it is parents purchasing their children's food, Sprout pleases pint-sized palates. His daughter eats four to five pouches a day. To see what the future holds for the chef, read more.
Though the chef and his family made the move to California just three years ago, it brought about a realization. "I have been cooking California cuisine my whole life," he said. And, it seems he's setting down some strong roots in the Golden State. "We were growing in New York and we're thriving in California," he said. The 39-year-old has a resume to rival most entrepreneurs — television fame, an Applebee's endorsement deal, five cookbooks, a cookware line, a kitchen retail shop, a wine label, and the aforementioned restaurants. He's as comfortable in front of the camera as he is playing name the vegetable with his son at the grocery store. Despite the fact that this is the pivotal point in Florence's career, it's clear that everyone (even babies) are welcome to sit at this family man's table.