Tyler Florence Roast Chicken
Rainy Day Roast Chicken With Sweet Potatoes and Onions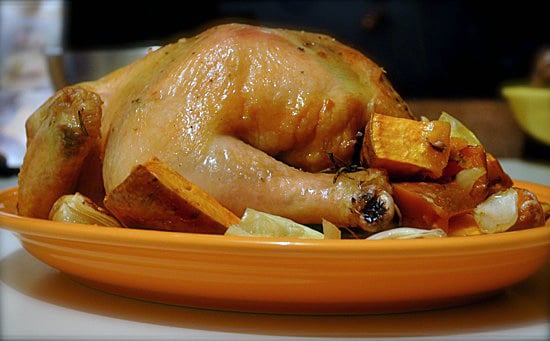 This weekend was nothing but rain and the perfect time for comfort food. Browsing through Tyler Florence's Dinner at My Place, I found myself drooling over a whole roasted chicken recipe. Since the weather was bad, I didn't want to leave the house, thus I improvised his recipe with items I already had on hand. Rather than Meyer lemons and fingerling potatoes, I substituted regular lemons and sweet potatoes. I also had a couple of onions, a shallot, fresh thyme, and rosemary lying around, so I threw those into the mix.
With my adjustments and additions, I was thrilled with the final result: a succulent, flavorful chicken and scrumptiously caramelized sweet potatoes and onions. Prep for this delicious dinner is quick, but cooking an entire chicken does take time, be sure to get started early. To brighten your day with this comforting classic, read more.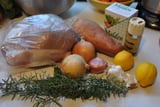 Ingredients
Roast Chicken
1 5-7 pound organic chicken
1 lemon, quartered
5-7 garlic cloves, cleaned
4 to 5 fresh bay leaves
8 sprigs of fresh thyme
2 sprigs of rosemary
2 sprigs of sage
1 shallot, cleaned
Extra Olive Oil
Kosher salt and ground pepper
Sweet Potatoes
2 pounds sweet potatoes, 2 inch chunks
1/4 cup extra virgin olive oil
1 fresh rosemary spring, leaves only
1 to 2 lemons, cut in quarters
2 onions, quartered
Directions
Preheat oven to 350. Rinse chicken with cool water and pat dry with paper towels.
Season cavity with kosher salt and pepper. Stuff cavity with lemon, garlic, bay leaves, shallot, rosemary, and thyme. Rub outside with oil and season with salt pepper.
Wash sweet potatoes and cut into 2-inch chunks. Toss potatoes and onions with oil. Toss with rosemary, thyme, and lemon wedges in a roasting pan. Season with salt and pepper.
Place the chicken on top of the sweet potatoes.
Roast for 1 hour 30 minutes to 1 hour 45 minutes or until the juices run clear. (180 Fahrenheit)
Serves 4-6.
Information
Category

Poultry, Main Dishes