Tyler Florence Wines
Tyler Florence's Wine: The "Ultimate," or Just Another Bottle?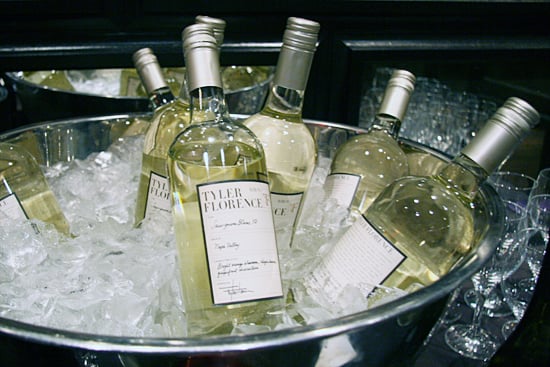 After tremendous success with the Food Network, several restaurants, a baby food line, and a handful of cookbooks, Tyler Florence is focusing his attention on wine. At a party in New York celebrating the national distribution of his labels, I had an opportunity to talk to Tyler personally about his venture into the winemaking world.
Despite his interest in wine, Tyler had no prior experience with blending, so he partnered with the Mondavi family, who helped create his signature wines. The chef also used his perceptive palate to guide him: "After years of experience [working with food], I know what tastes good," he declared. This led to the creation of two wine lines: Tyler Florence Wines, a casual, everyday line, as well as TF, a limited-production line.
Tyler worked with a "less is more" philosophy when designing the wine labels, because he claims winemakers put too much on the label, and then "the essence of the wine becomes lost." For the limited-production line, everything is abbreviated; Tyler kept it bare bones to evoke a sense of nonfussy sophistication. A 1930s library card inspired his Tyler Florence wines, as a reminder that these were handcrafted, and features the chef's own handwritten wine notes. Learn more about the wines.
The Sauvignon Blanc ($20) is smooth with a floral, orange blossom bouquet. Grapefruit and lemon flavor notes keep it fresh, dry, and zingy, and the wine is citrus-forward without any bitter grassiness sometimes associated with the varietal. The 2010 Pinot Noir ($40) tastes of crushed cherries and has a silky, rich body. The 2008 Zinfandel ($40) is bold in its leathery, berry flavor but has soft, rounder tannins. My favorite was the 2008 Cabernet Sauvignon Reserve ($65). Its blackberry scent sent me straight back to the dusty vineyards of Rutherford, and it had a familiar tannic, oaky flavor that often characterizes Napa Cabs.
Recently the wines have been released across the country to local grocers and wine shops. To make the wines accessible to more households, shipping is also available to 15 states around the country for an affordable $5 flat shipping fee, no matter the number of bottles purchased.
Tyler told me that he sees his wines as his legacy. Once he's grown weary of restaurant and camera work, he wants to eventually move to Napa and grow old there amidst the vines and his future grandchildren. Tyler may be known for his "ultimate" recipes, but it's clear he brings the same quality to his wines. I've already secured a spot for my Cab Reserve '08 to gather dust in my "cellar" at home.