Types of Miso
A Guide to Miso Varieties, From Shiro to Aka (and Beyond)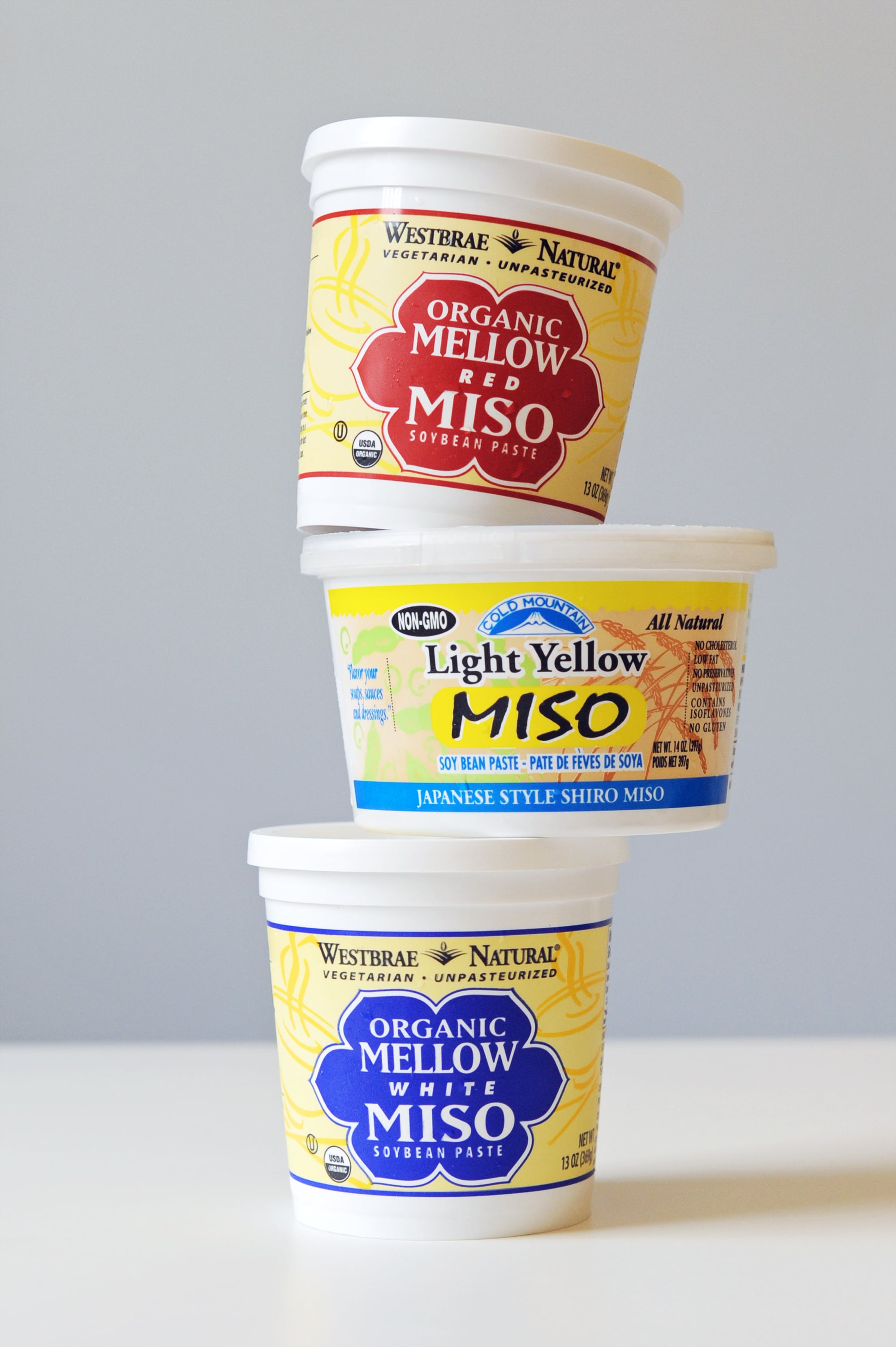 Genmai, shiro, shinshu: no, these aren't the names of the latest Japanese pets to take the Internet by storm, but rather three varieties of miso, another favorite Japanese export. We love the salty-savory-sweet spark miso gives to everything from kale chips to steak sauce, but keeping the different varieties straight can be a bit of a headache . . . until now. Keep reading for a breakdown of the seven types you're most likely to encounter stateside.
White: Also known as shiro miso, white miso is pale beige in color, has a creamy texture, and is mild and sweet in flavor. Made from rice and soybeans, it's fermented for a relatively short time period (a matter of weeks). Extremely versatile, it can be used in miso soup, marinades and glazes for fish or meat, dips, salad dressings, and even dessert.
Yellow: Also known as shinshu miso (and, confusingly, sometimes called shiro miso), yellow miso is usually a bit darker in color than white, and though mild, it is a hair more acidic and salty than white miso. Made from rice and soybeans, it's typically fermented longer than white miso, though rarely past the one-year mark. An all-purpose miso, it can be used in the same sorts of recipes as white.
Red: Also known as aka miso, red miso is reddish-brown in color and is very savory and salty, slightly bitter, and less sweet than white and yellow misos. Made primarily from soybeans, with a smaller proportion of rice or barley, it's fermented for as long as three years. More assertive in flavor than white and yellow miso, it's usually dosed out with a lighter hand. Try it in sauces, dips, dressings, hearty soups, stews, and braised meat dishes.
Soybean: Also known as hatcho or hacho miso, this variety is fittingly made solely from soybeans. Dark reddish-brown in color and chunky in texture, it's usually considered to be the most potent type of miso, partially due to its ingredient base but also from a lengthy fermentation process of up to three years. Hearty and robust, it's traditionally used in heavier dishes like soups and stews.
Brown rice: Also known as genmai, brown rice miso is dark brown in color and is deeply savory, salty, robust, and creamy. Made from a combination of soybeans and brown rice, brown rice miso is typically used in soups, sauces, and marinades; we like it in the dressing of this assertive cucumber salad.
Barley: Also known as mugi miso, barley miso is dark reddish-brown and is made primarily from (you guessed it!) barley. Thick, chunky, funky, and strong, with a mild sweetness, this long-fermented miso is not a good choice for miso soup but is great in stews and has a particular affinity for mushrooms.
Chickpea: Considered to be a light miso, this chickpea- and rice-based miso is similar in flavor and texture to white and yellow misos and can be used in the same repertoire of dishes. Have a soy allergy? This is the miso for you.